PsychNote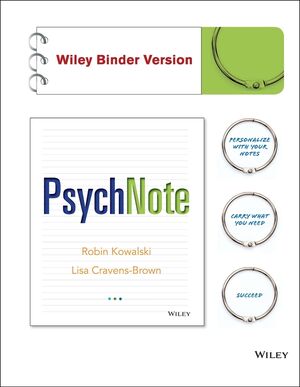 PsychNote
ISBN: 978-1-118-46009-2
Dec 2014
464 pages
Description
PsychNote Binder Ready Version is an innovative new learning program for Intro to Psych which addresses two of the most important course issues: student study skills and textbook affordability. Each chapter contains a condensed overview of important concepts (organized into modules with companion learning objectives) supported by photos, charts, graphs and tables. Each chapter also includes a section containing a concept outline designed to be taken to lecture and used for student note-taking. This outline provides a skeleton view of the important concepts discussed in the chapter and space for a student to write notes from the instructor's lecture. This text is an unbound, binder-ready version.
Its three interlocking elements, a brief 300-page work-text, a VitalSource e-text and access to WileyPLUS LearningSpace, work together to provide today's students with a flexible program that meets their learning styles and busy lifestyles.
Note-taking feature helps students internalize and better retain concepts.
Flexible print format allows for student personalization and customization.
Streamlined presentation of topics encourages students to focus on most important topics.