Psychoanalysis and Culture: Contemporary States of Mind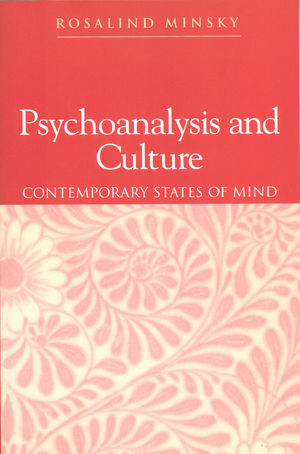 Psychoanalysis and Culture: Contemporary States of Mind
ISBN: 978-0-745-66795-9 April 2013 Polity 264 Pages
Download Product Flyer
Download Product Flyer
Download Product Flyer is to download PDF in new tab. This is a dummy description. Download Product Flyer is to download PDF in new tab. This is a dummy description. Download Product Flyer is to download PDF in new tab. This is a dummy description. Download Product Flyer is to download PDF in new tab. This is a dummy description.
Description
Written in a readable, accessible style, with plenty of up-to-date examples Psychoanalysis and Culture provides a brilliant introduction to key issues in the area of application of psychoanalytic theories to culture. The author argues that we cannot grasp the complexity of contemporary global issues without understanding some of the unconscious processes which underlie them. After introducing some major modern and postmodern psychoanalytic approaches, Minsky offers a broad-ranging critique of Lacan's theory of culture and the unconscious. She explores a range of crucial and topical questions: how should we explain women's historical subordination and what is now often seen as a crisis in male identity? What constitutes 'masculinity' apart from power and control? How important is the father, actually and symbolically in children's development in the context of lone-parent families? Why is contemporary culture often still so violent and destructive? Why is consumer culture so attractive to so many and why is it so difficult to put limits on economic growth in the interests of preventing environmental disaster?

This book will be of great interest to students and scholars in sociology, women's studies, cultural studies, psychology and history as well as psychoanalytic studies. It will also appeal to the general reader interested in the psychology of cultural change.
Table of contents
Preface.
Abbreviations.
Introduction.
Part One: Psychoanalytic Perspectives.
1. Freud: Sexuality and the Unconscious.
2. Klein: Phantasy and Reparation.
3. Winnicott: Creativity and the Nurturing Mother.
4. Lacan: the Unconscious as Language.
Part Two: Control or Containment?: Making Sense of Experience.
5. Difference: the Fluidity of Gender.
6. Womb-envy and Women as 'Too Much of a Good Thing'.
7. The Psychical Significance of Fathers.
8. The Unconscious Roots of Violence.
9. Consuming 'Goods'.
10. Fragrant Theory and the Sweet Scent of Signifiers.
Notes.
Bibliography.
Index.
Reviews
"In
Psychoanalysis and Culture
Rosalind Minsky provides an engaging version of the theories of Freud, Klein, Winnicott, and Lacan in making a passionate plea for their relevance to understanding the otherwise often overwhelming-seeming alienation, chaos, or complexity of thought and feeling involved in sex, gender, violence, and consumerism in Europe and America at the millennium."
Professor Janet Sayers, University of Kent
"Rosalind Minsky has produced a comprehensive guide to some of the major traditions of psychoanalytic theory, and impressively develops an instructive and engaging dialogue between psychoanalysis and cultural critique." Anthony Elliott, University of Melbourne

"[This book] is intelligent, knowledgeable, creative, and remarkably accessible. It lives up to its goal, which is to speculate as to how psychoanalytic theories enable us to see cultural problems more insightfully." Professor Suzanne Juhasz, University of Colorado

"An appeal to those seeking to acquaint themselves with a range of psychoanalytic ideas is clearly one of Minsky's principal intentions throughout the book. and she succeeds admirably. Her writing is clear and accessible and the book could stand as a useful introductory text on her key theorists and the similarities and differences between the two major schools of psychoanalysis: Freudian and object-relations" B. Nicol, University College Chichester, Psychoanalytic Studies
Features
* Accessibly-written and includes plenty of up-to-date examples such as the impact of the death of the Princess of Wales.
* Original approach towards our comprehension of the complexity of global issues and events by calling for the need to understand some of the unconscious as well as conscious processes beneath modern developments.
* Covers major modern and post-modern psychoanalytic theories including those of Freud, Klein, Winnicott and Lacan, and uses them to argue that knowledge should be both intuitive as well as rational.