Psychodynamics for Consultants and Managers: From Understanding to Leading Meaningful Change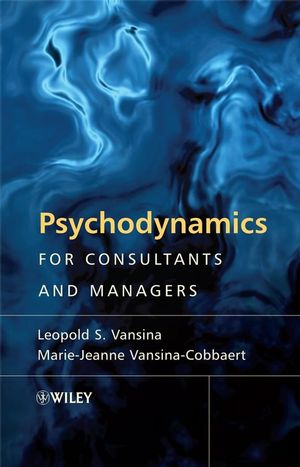 Psychodynamics for Consultants and Managers: From Understanding to Leading Meaningful Change
ISBN: 978-0-470-69719-1
Sep 2008
450 pages
Description
This book explores the ways in which psychoanalytic thinking can be more extensively and effectively used to the benefit of organizations and groups. It provides future and practicing consultants and managers with an understanding of unconscious and non-conscious behaviour in order for them to create the appropriate conditions for change in organizations. It explains psychodynamic concepts and working principles in an accessible language and clearly describes their use in consulting and management practices using case studies. Case studies and examples are included throughout, and a glossary is provided.
About the Authors.
Contributors.
Acknowledgements.
General Introduction.
Part One: A Psychoanalytic Perspective on Groups and Organisations (Marie-Jeanne Vansina-Cobbaert).
Chapter 1: Original, Primary Mental Processes (Marie-Jeanne Vansina-Cobbaert).
Illustrations.
Stepwise transformations.
Chapter 2: Languages from Another World (Marie-Jeanne Vansina-Cobbaert).
The language of images.
The language of actions.
The language of relations.
Putting the information from 'atlantis' to use.
Chapter 3: Supportive 'Process Structures' (Marie-Jeanne Vansina-Cobbaert).
Holding and containment.
Transitional phenomena.
Chapter 4: Defensive Processes and Behaviour (Marie-Jeanne Vansina-Cobbaert and Leopold Vansina).
Individual defence mechanisms.
Defence mechanisms in groups.
Social defences.
Social repression.
Defensive strategies.
Working with and through defences.
Conclusions.
Chapter 5: The Capacity for Creative Living and Its Importance in Organisational Life (Marie-Jeanne Vansina-Cobbaert).
Origins and functioning of the capacity for creative living.
Destructiveness in the context of creative living.
Part Two: A Psychodynamic Approach.
Introduction (Leopold Vansina).
Chapter 6: Psychodynamics: A Field of Study and an Approach (Leopold Vansina).
Some major differences with psychoanalysis.
An attempt to define psychodynamics.
Creating supportive process structures.
Small things that matter: a look at some neglected potential benefits of a psychodynamic approach to organisational issues.
Finalising comments.
Chapter 7: 'Me' in the Problem Situation (Leopold Vansina).
The problem with problem definition.
Building continuation.
'Me' in terminating a project.
What about transference and counter-transference in our practice?
Chapter 8: Groups as the Tip of an Iceberg: Locating Issues in Their Context (Leopold Vansina).
Introduction.
Management teams as the tip of an iceberg.
The iceberg in project teams.
Import and export mechanism of problems.
Chapter 9: Being in and Working with Experiences in the 'Here-and-Now' (Leopold Vansina).
Various mental modes of being present.
The relevance of working with or without specific frames in the 'here-and-now'.
From interpretations to sense making.
Chapter 10: The Art of Reviewing: A Cornerstone in Organisational Learning (Leopold Vansina).
Reviewing.
What could be reviewed?
When to review and with what frequency?
Special or institutionalised reviews.
How to review?
Conditions for reviewing.
The role and stance of the person(s) leading the review.
Limits to learning from reviewing.
Part Three: The Psychodynamic Approach in Consulting and Action-Research Projects
Introduction (Leopold Vansina).
Chapter 11: Understanding and Working with Organisational Dynamics: Coping with Organisational Growth (Leopold Vansina and Gilles Amado).
Part 1: Creating Awareness and a Base for Action within the Organisation.
The pilot workshop.
The second workshop.
The third workshop.
The relevance of the design.
Part 2: Working Through the Draft Blueprint.
The six two-day workshops.
Understanding and working with organisational dynamics: discussion.
Chapter 12: Transformations: Hope, Illusions and Reality. Transformations within a Family-Owned International Corporation (Leopold Vansina and Marie-Jeanne Vansina-Cobbaert).
Part 1: The Consulting Project.
The actors within the system.
'Minimal structures' and 'time and space'.
Part 2: Making Sense of the Work.
Transformation.
What can be learned from the consulting experience and conceptual clarifications for advancing the practices of organisation consultants and managers?
Chapter 13: Participative Redesign: Action-Research into the Strategic Restructuring of a Plant (Leopold Vansina).
Part 1: The Project.
History and context.
My role, approach and intentions.
Phase one: exploring the company in its environment.
Phase two: engaging the employees to redesign the operations to meet the new production strategy.
Phase three: change in ownership and implementation.
Part 2: Organisational Results and Research Findings.
Results from the participative redesign.
The process of successful organisational change.
Learning from the action-research itself.
Chapter 14: Working Across Organisational Boundaries: Understanding and Working with Intergroup Dynamics (Sandra G.L. Schruijer and Leopold Vansina).
Part 1: The Psychological Difficulties of Working Across Organisational Boundaries.
The meaning of collaboration.
The yacht club.
Part 2: Helping Groups and Organisations in Developing Successful Collaboration.
Shellfisheries: conflicts of interest between nature and economy.
Collaboration in the building sector.
Organisational change of a nursing home.
Medical call centre.
Part 3: Dynamics, Practices and Principles.
Working with the whole system.
Working with the psychodynamics of conflict and collaboration.
Leading collaboration.
Exploring the 'why?'
Concluding remarks.
References.
Glossary.
Index.
""Vansina and Vansina-Cobbaert (and the two other contributors, Gilles Amado and Sandra Schruijer, who co-author one chapter each in the more ""empirical"" third part of the book) make a quite good point on why even people who do not hold a great belief in psychoanalysis and the subconscious processes among people - those that either hinder, or even can be made to help, change and learning in organizations - should understand these processes and learn to read them."" (Journal or Workplace Learning)