Psychological Assessment in the Workplace: A Manager's Guide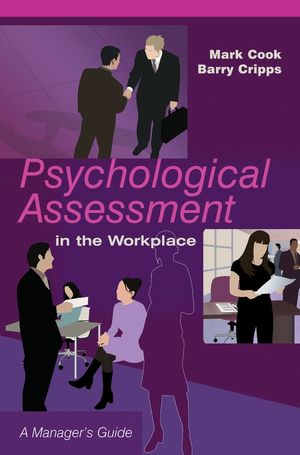 Psychological Assessment in the Workplace: A Manager's Guide
ISBN: 978-0-470-86160-8 June 2005 368 Pages
Description
This book covers the assessment of people within the workplace. Written in jargon free language, it offers a guide to psychological assessment that can be used by managers in their everyday work. Each chapter will specifically cover an assessment practice and then explore the issues surrounding it, following this discussion with a case study. Ideas for test selection, guidance on assessment centre practice and illustrations of successfully worked exercises are also included.
Table of contents
About the Authors.
Preface.
Chapter 1: Assessment in the Workplace.
Chapter 2: Using Psychometric Tests.
Chapter 3: Tests of Mental Ability.
Chapter 4: Personality Tests.
Chapter 5: Sifting and Screening.
Chapter 6: References and Ratings.
Chapter 7: Competence Analysis.
Chapter 8: Assessment and Development Centres.
Chapter 9: The Interview.
Chapter 10: Structured Interviews.
Chapter 11: Other Special Assessment Methods.
Chapter 12: Using Assessment to Arrive at a Decision.
Chapter 13: Workplace Counselling.
Chapter 14: Performance Appraisal.
Chapter 15: Training for Testing and Assessment.
Chapter 16: Professional and Ethical Issues.
Chapter 17: The Future of Assessment.
References.
Index.
Features
Clear, jargon free exposition of each practice with rigorous theoretical underpinning
Includes detailed case studies
Written by experienced occupational psychologists who have academic, business and HR backgrounds