Psychological Symptoms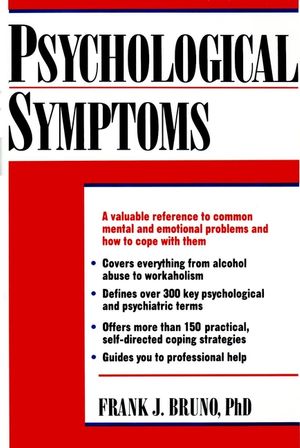 Psychological Symptoms
ISBN: 978-0-471-01610-6
Feb 1994
288 pages
Description
If you or someone you love is suffering from any of the following, you can now find out why--and what you can do about it .
* Anxiety
* Loss of pleasure
* Irrational fears
* Obsessional thoughts
* Erratic mood swings
* Procrastination
* Compulsive overeating
* Extreme shyness
* Depression
* Self-destructive behavior
* Phobias
* Excessive anger
* Perfectionism
* Drug abuse
Psychological Symptoms Now, in this indispensable reference, Dr. Frank J. Bruno helps you understand the origins of and treatment available for several common psychological symptoms, which can impinge on your daily life and even signal deeper emotional trouble. A comprehensive sourcebook, Psychological Symptoms provides a detailed description of 27 symptom groups, each complete with an analysis of possible biological and psychological causes, as well as concrete everyday examples of characteristic self-defeating, self-destructive thinking and acting. Containing over 150 specific, self-directed strategies for dealing with an array of troubling, debilitating behaviors, as well as a guide to the various forms of psychological and psychiatric therapies available, Psychological Symptoms lets you finally gain perspective and control over problems that can impair your emotional health and well-being.
Partial table of contents:

Suffering and Psychological Symptoms.

Alcohol Abuse: Mistreatment of the Self.

Anger: Seeing Red When the Light Is Green.

Anxiety: Worrying About Worry.

Boredom: When Life Grows Dull.

Delusions: When Fantasies Become Real.

Depression: The Anatomy of Melancholy.

Food Abuse: Living to Eat.

Indecisiveness: Going in Mental Circles.

Irrational Fears: A Plague of Phobias.

Meaninglessness: Looking for the Purpose of Life.

Memory Problems: More Than Ordinary Forgetfulness.

Mood Fluctuations: The Storms of Temperament.

Perfectionism: The Flaw of Flawlessness.

Procrastination: The Tomorrow Syndrome.

Risk-Taking: Getting High on Danger.

Self-Destructiveness: When the Personality Attacks Itself.

Shyness: Painful Self-Consciousness.

Sleep Difficulties: The Long and Restless Night.

Workaholism: Prisoners of Success.

Concluding Remarks: Symptom-Free Living.

Glossary.

Index.