Psychological Testing: A Practical Introduction, 3rd Edition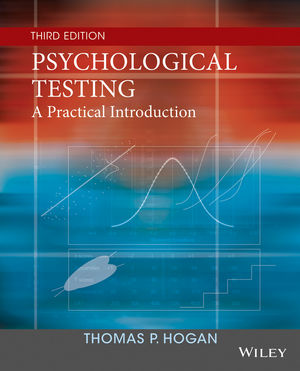 Psychological Testing: A Practical Introduction, 3rd Edition
ISBN: 978-1-118-80386-8 October 2013 704 Pages
Download Product Flyer
Download Product Flyer
Download Product Flyer is to download PDF in new tab. This is a dummy description. Download Product Flyer is to download PDF in new tab. This is a dummy description. Download Product Flyer is to download PDF in new tab. This is a dummy description. Download Product Flyer is to download PDF in new tab. This is a dummy description.
Description
Psychological Testing:  A Practical Introduction, 3rd Edition provides a comprehensive introduction to major psychometric principles, accompanied by "real world" examples demonstrating test usage in contemporary practice.  The text explores concepts including reliability, validity, norms development, approaches to both norm-referenced and criterion-referenced interpretation, methods of studying test bias, and procedures for test development.  Additionally, the book is written in clear, student-friendly language, without omitting difficult issues and concepts.  The book describes examples of tests in major domains, including intelligence, personality (both objective and projective), clinical methods, achievement, interests and attitudes, and neuropsychology.
Table of contents
Preface V
Acknowledgments IX
Part One 1
Chapter 1. The World Of Psychological Testing 3
Chapter 2. Sources Of Information About Tests 45
Chapter 3. Test Norms 63
Chapter 4. Reliability 111
Chapter 5. Validity 155
Chapter 6. Test Development, Item Analysis, And Fairness 205
Part Two 253
Chapter 7. Intelligence: Theories And Issues 255
Chapter 8. Individual Tests Of Intelligence 289
Chapter 9. Group Tests Of Mental Ability 339
Chapter 10. Neuropsychological Assessment (Brooke Cannon & Mathew Eisenhard) 383
Chapter 11. Achievement Tests 417
Chapter 12. Objective Personality Tests 445
Chapter 13. Clinical Instruments And Methods 481
Chapter 14. Projective Techniques 519
Chapter 15. Interests And Attitudes 549
Chapter 16. Ethical And Legal Issues&nbsp 583
Appendixes
A. Test Reviewing And Selection 621
B. How To Build A (Simple) Test 629
C. Contact Information For Major Test Publishers 637
D. Sample Data Sets 641
E. Answers To Selected Exercises 643
Glossary 651
References 663
Text And Illustration Credits 683
Index 687
New To This Edition
Significant expansion in the treatment of test fairness/test bias. Test fairness sections have now been "pulled together," coordinated, and expanded and placed in the chapter 6 on test development.
Coordination with the new Standards for Educational and Psychological Tests. Citations to the new Standards appear throughout the text, especially in Chapters 3-6.
Thorough updating for new versions of widely used tests (WAIS-IV, WMS-IV, PPVT-4, WPT, GRE, ASVAB, NBAP-D, MMSE-2, NEO PI-3, MMPI-2 RF) plus the latest developments for school testing programs in light of NCLB and for the Rorschach
Appendix C includes updated contact information for major test publishers. Virtually all contact with publishers these days begins with the Internet. Therefore, the updated information gives publisher URLs and omits addresses and telephone numbers.
Added to the sample data sets in Appendix D is a simple Excel spreadsheet that allows the student to generate item characteristic curves (ICCs) by varying item parameters in the three parameter model.
The Instructor's Manual and Test Bank have been thoroughly updated to reflect the changes in this new edition.
Features
"Try It" exercises require application of concepts and procedures treated in the text to real-life, contemporary situations.
Each chapter features Chapter Objectives, Key Point Summaries accompanying major sections of material within each chapter, and end-of-chapter summaries and exercises help students organize their learning.
The major conceptual and procedural approaches for each category of psychological test are delineated with examples given for each.