Psychological Well Being and Acquired Communication Impairment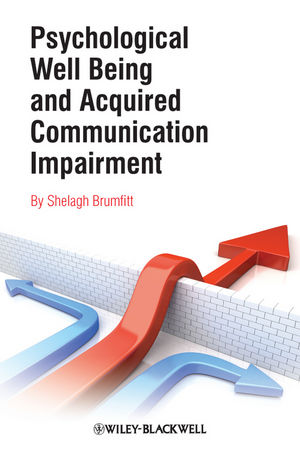 Psychological Well Being and Acquired Communication Impairment
ISBN: 978-0-470-06543-3 October 2009 240 Pages
Description
Psychological Well-being and Acquired Communication Impairments
is an essential resource for all health professionals working with this complex client group. It offers a unique multi-disciplinary approach to the subject, looking at the evidence base as well as clinical practice.
The book covers both the assessment of people with acquired communication impairments as well as reviewing the available interventional approaches. Chapters cover such key topics as approaches to the assessment of anxiety and depression, the impact of brain injury, the role of an assessment of mood and the role of self esteem.
Table of contents
List of Contributors.
Foreword by Professor Chris Code.
Preface.
Chapter 1 Introduction (Shelagh Brumfitt).
Chapter 2 Evaluation of Anxiety and Depression in People with Acquired Communication Impairments (Shirley A. Thomas).
Chapter 3 Brain Injury and Psychological Well-Being (Camilla Herbert).
Chapter 4 The Role of Self-Esteem: Issues in Acquired Communication Impairments (Shelagh Brumfitt).
Chapter 5 The Role of Well-Being in Quality of Life for the Person with Acquired Communication Impairments (Madeline Cruice).
Chapter 6 The Visual Analog Mood Scales (Robert A. Stern, Daniel Daneshvar, and Sabrina Poon).
Chapter 7 Interdisciplinary Approaches to the Assessment and Management of Well-Being (Jane Barton).
Chapter 8 Psychological Approaches to Working with People in the Early Stages of Recovery (Shonagh Scott and Jane Barton).
Chapter 9 Group Therapy—An Interprofessional Approach (Diane Brown and Mairi Knox).
Chapter 10 Solution-Focused Brief Therapy for People with Acquired Communication Impairments (Kidge Burns).
Index.
Reviews
"Two particular strengths stood out for me - firstly, its sound evidence base and secondly its practical approach with relevant case examples, specific strategies and therapeutic interventions described in detail throughout." (Speech & Language Therapy in Practice, Autumn 2010)

"Address[es] approaches to the assessment and management of [clients'] emotional well-being." (Book News, December 2009)