Psychology, 4th Australian and New Zealand Edition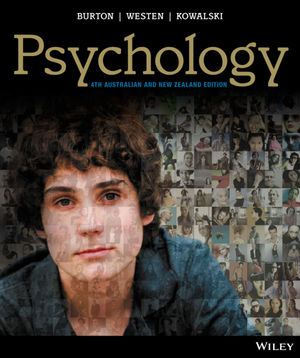 Psychology, 4th Australian and New Zealand Edition
ISBN: 978-0-730-30468-5
Sep 2014
1000 pages
Product not available for purchase
Description
Building on the success of the market-leading and award-winning previous editions, Psychology: 4th Australian and New Zealand Edition has been thoroughly updated to provide comprehensive coverage of contemporary local and international data, research and examples in the dynamic field of psychology. A key strength of the text and its extensive online accompanying resources continues to be its integrated coverage of cross-cultural and indigenous psychology, a requirement for the professional accreditation of Psychology degree programs. The text and its associated resources are ideal for both Psychology majors and those taking only a one-semester study of Psychology.
Preface xiii
About the authors xvi
Accompanying resources xvii
How to use this book xviii
Australian and New Zealand content at a glance xxii
1. Psychology: the study of mental processes and behaviour 1
2. Research methods in psychology 39
3. Biological bases of mental life and behaviour 75
4. Sensation and perception 115
5. Consciousness 171
6. Learning 209
7. Memory 245
8. Thought and language 287
9. Intelligence 331

10. Motivation and emotion 363
11. Personality 413
12. Physical and cognitive development 457
13. Social development 497
14. Health, stress and coping 543
15. Psychological disorders 597
16. Treatment of psychological disorders 649
17. Attitudes and social cognition 689

18. Interpersonal processes 733
19. Cross-cultural and indigenous psychology 777
Solutions to application questions 833
Acknowledgements 837
Glossary 840
References 862
Name index 944
Subject index 962
25% more Australian and New Zealand content (examples, statistics, and research) throughout the text.
New and updated Commentary boxed features in each chapter by leading academics encourage students to extend their thinking on topical issues.
New and updated One Step Further boxed featuresin each chapter by leading academics provide more advancedcoverage of specific topics.
Coverage of DSM-5, including a discussion of the controversies surrounding the recent update of this classification and diagnostic tool for mental health disorders.
Concept Maps open each chapter, outlining the key psychological topics and concepts to be explored.
From Brain to Behaviour boxed features show how psychology is situated between the nervous system and our cultural experience.
Ethical Dilemmas stimulate critical thinking by providing students with examples of potentially challenging situations commonly faced in psychology.