Psychology, 8th Edition, International Student Edition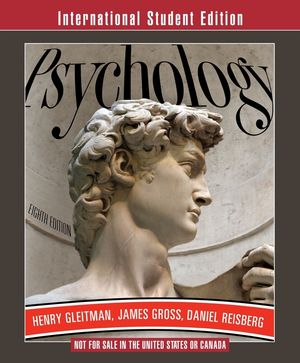 Psychology, 8th Edition, International Student Edition
ISBN: 978-0-393-11682-3
*Norton agency titles
863 pages
Product not available for purchase
Description
The most intelligent book ever written for the course, reinvented for today's students.

The Eighth Edition has been reorganized and streamlined to mirror the organization of today's courses, updated to include extensive coverage of the latest discoveries and research, and reimagined with new pedagogy, figures, and technology.

James Gross, co-author of the text and Director of the Psychology One Teaching Program at Stanford University, believes in an integrated approach that looks at multiple perspectives to understand the larger complexities of the field. In the Eighth Edition, the authors present psychology as a central discipline that connects to the humanities as well as the exciting advances in neuroscience.
Prologue
Chapter 1: Research Methods
Chapter 2: Evolutionary and Genetic Influences on Behavior
Chapter 3: The Brain and the Nervous System
Chapter 4: Sensation
Chapter 5: Perception
Chapter 6: Consciousness
Chapter 7: Learning
Chapter 8: Memory
Chapter 9: Thinking
Chapter 10: Language
Chapter 11: Intelligence
Chapter 12: Motivation and Emotion
Chapter 13: Social Psychology
Chapter 14: Development
Chapter 15: Personality
Chapter 16: Psychopathology
Chapter 17: Treatment of Mental Disorders
Appendix: The Description, Organization, and Interpretation of Data
Glossary
Name Index
Subject Index
An interdisciplinary perspective
In the spirit of Henry Gleitman, Professor Gross presents psychology as a hub discipline that connects to the humanities as well as the exciting advances in neuroscience.
An integrated approach to the field
Psychology shows respect for differing traditions, emphasizing, for instance, that both nature and nurture play an important role in shaping behavior.
An emphasis on research methods
In his course at Stanford, Professor Gross takes great care to help students understand psychological methods. The Eighth Edition of Psychology reflects this emphasis with a chapter on research methods and new "Scientific Method" figures throughout.
The most current view of the field
Psychology provides extensive coverage of the latest discoveries and research, including expanded material on the biological basis of behavior. The Eighth Edition contains a completely revised chapter on evolution and genetics, and more material on neuroscience throughout the text.
An engaging narrative
Like Henry Gleitman, Professor Gross is a master pedagogue. As a result, the Eighth Edition of Psychology is a captivating introduction to the field, filled with engaging stories and examples that help students see the relevance and importance of psychology in the twenty-first century.
A visually rich text with effective pedagogical features
A cutting-edge illustration program and new pedagogy helps students reach their full potential in the course.
An art program with clear, attractive graphics engages visual learners. "Scientific Method" illustrations demonstrate how psychologists think and work.
Thought-provoking stories open each chapter and entice students to "come for the story and stay for the lesson."
Margin definitions provide guideposts to help students assess their understanding and sharpen their study skills.
A perfect fit for today's courses
The table of contents for Psychology, Eighth Edition, was designed specifically to support the organization of today's introductory psychology courses:
The eighth edition features two new chapters: Research Methods (Ch. 1) and Consciousness (Ch. 6).
Our two chapters on social psychology have been streamlined into one.
Our two chapters on development have been streamlined into one.
A brand new emedia and assessment package
Psychology, Eighth Edition, is accompanied by the perfect balance of student review and assessment materials, profiles of current research in the field, and a diverse array of instructor resources that make it easy for adopters to put together a great course