Psychology, Study Guide, 3rd Australasian and New Zealand Edition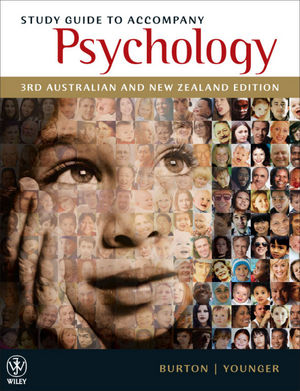 Psychology, Study Guide, 3rd Australasian and New Zealand Edition
ISBN: 978-1-742-16682-7
Nov 2011
426 pages
Product not available for purchase
Description
A perfect companion to the textbook Psychology: 3rd Australasian and New Zealand Edition, this study guide will enable you to efficiently review key concepts and test your knowlwdge. It is designed to facilitate active learning that incorporates specific guidelines to help you to remember information by following the six steps used by the SQ4R system:


Survey
Question
Read
Recite
Review
Write.
By actively taking control of the learning process in this way, the goal is to help you better understand and apply the concepts from the book.
The chapters in the study guide correspond to the chapters in the textbook, and contain the following features:
chapter outline
learning objectives
key terms
active learning exercices
chapter review
self-tests (sample test questions and answers).
Chapter 1
Psychology: the study of mental processes and behaviour  1
Chapter 2 Research methods in psychology 22
Chapter 2 supplement Statistical principles in psychological research 45
Chapter 3 Biological bases of mental life and behaviour 56
Chapter 4 Sensation and perception  78
Chapter 5 Consciousness  102
Chapter 6 Learning  124
Chapter 7 Memory  147
Chapter 8 Thought and language 169
Chapter 9 Intelligence 190
Chapter 10 Motivation and emotion  209
Chapter 11 Personality  229
Chapter 12 Physical and cognitive development 253
Chapter 13 Social development  271
Chapter 14 Health, stress and coping  294
Chapter 15 Psychological disorders  316
Chapter 16 Treatment of psychological disorders  339
Chapter 17 Attitudes and social cognition  361
Chapter 18 Interpersonal processes  385
Chapter 19 Cross-cultural and indigenous psychology  405