Psychology Around Us, 3rd Canadian Edition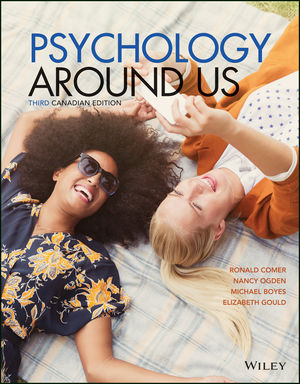 Psychology Around Us, 3rd Canadian Edition
ISBN: 978-1-119-34861-0
Dec 2017
Product not available for purchase
Description
Comer/Ogden/Boyes/Gould is the first introductory psychology textbook to successfully present psychology as an integrated discipline. Every chapter not only offers a thorough presentation of the concepts, applications, and research of that area, but also illustrates the interrelations among the subfields of psychology—brain function, development, dysfunctions, and individual differences. This approach not only serves to engage students, but also presents psychology as a united and integrated discipline. Combined with a balance of Canadian and global research, rigorous scientific content, and engaging applications, this text is an invaluable resource for your Canadian introductory psychology students. This third Canadian edition is fully up to date with DSM-5 coverage as well as updated citations and references throughout. The chapters have also been streamlined to improve accessibility and organizational flow for better student learning.
Chapter 1: Psychology: Yesterday and Today
Chapter 2: Psychology as a Science
Chapter 3: Neuroscience
Chapter 4: Human Development
Chapter 5: Sensation and Perception
Chapter 6: Consciousness
Chapter 7: Learning
Chapter 8: Memory
Chapter 9: Language and Thought
Chapter 10: Intelligence
Chapter 11: Motivation and Emotion
Chapter 12: Personality
Chapter 13: Social Psychology
Chapter 14: Stress, Coping, and Health
Chapter 15: Psychological Disorders
Chapter 16: Treatment of Psychological Disorders
New and updated references in each chapter to ensure that readers get access to the most up-to-date research related to the topics covered.
Canadian content: examples of trailblazing Canadian work are included and highlighted.

Reduced number of feature boxes: the content of many of the Psychology Around Us boxes have been embedded directly into the coverage of core psychological concepts and research.

New information on neuroscience has been incorporated into chapters where it has been traditionally been absent, such as social psychology and consciousness.
The Integrated Approach of Comer 3ce illustrates the interrelations among the subfields of psychology: brain function, development, atypical development, and individual differences.
The Psychology Around Us feature provides examples that demonstrate the real-world relevance of psychology to students' lives. Several of these features appear throughout each chapter, showing that the psychological principles under discussion are, indeed, all around us.
The Tying It Together: Your Brain and Behaviour features demonstrate exactly how our brains work when we engage in everyday activities, such as eating pizza, studying a second language, or speaking in public. Three to four review and critical thinking questions are included with each feature.
Learning Objectives for each chapter section identify the most important material for students to understand while reading that section.
The Before You Go On features follow each chapter section and help students check their mastery of the important concepts covered.
What Do You Know? questions prompt students to stop and review the key concepts presented and encourage them to think critically on key aspects of each chapter.
The Practically Speaking boxes emphasize the practical application of everyday psychology. They allow students to apply the psychology they are learning in an active, meaningful way.