Psychology Research Methods, 1st Edition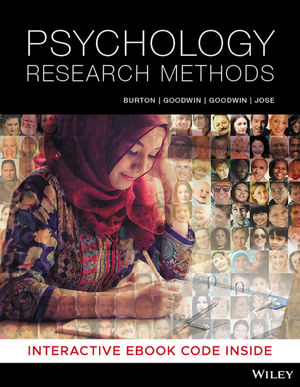 Psychology Research Methods, 1st Edition
ISBN: 978-0-730-34463-6
Oct 2017
504 pages
Product not available for purchase
Description
An appealing, understandable and engaging resource, the first edition of Burton's Psychology Research Methods offers students a clear, concise look at psychological science, experimental methods, correlational research, statistics and more. This product also includes an emphasis on research ethics; how the APA's most recent code of ethics is applied to research, and the issue of scientific fraud. Rounded out with helpful learning aids like branched-chain scenarios, bespoke Australia/New Zealand videos, step-by-step instructions, and detailed examples of real research studies makes the material easy to read and student-friendly.
Chapter 1. The scientific method
Chapter 2. Ethics
Chapter 3. Measurement and validity
Chapter 4. Types of observational analysis
Chapter 5. Collecting and organising data (descriptive statistics)
Chapter 6. Experimental design 1 (One IV; independent groups; repeated measures)
Chapter 7. Experimental design 2 (Factorial designs)
Chapter 8. Variations on experimental design
Chapter 9. Correlational research
Chapter 10. Hypothesis testing and inferential statistics
Chapter 11. Qualitative methods
Chapter 12. Research report reading and writing
Chapter 13. SPSS
Accessible Content: This new edition comprises insightful and engaging content delivered in concise, digestible chunks to support students'' engagement and retention.
Visibility of Progress: When purchased by the institution for all students, WileyPLUS Learning Space provides sophisticated insight into students' participation, engagement and proficiency in the course through real-time, actionable reports.
Trusted Authorship: Know you're getting the best content from leading expert Lorelle Burton and a team of renowned authors from throughout Australia and New Zealand.
Interactive Online Textbook: The WileyPLUS Learning Space interactive textbook is full of rich media and activities to facilitate engaged learning.
Engaging Videos: Hours of bespoke, ANZ videos with real psychologists embedded at the point of learning.
Gamification: Interactive 2D capstone activities at the end of each chapter ask students what they would do in content-related branched-chain scenarios.