Psychology and Law: Truthfulness, Accuracy and Credibility, 2nd Edition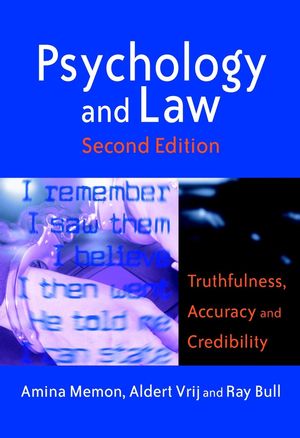 Psychology and Law: Truthfulness, Accuracy and Credibility, 2nd Edition
ISBN: 978-0-470-85061-9 August 2003 240 Pages
Description
Psychology and Law shows how psychological research and theory can be used in a legal context. Written with advanced undergraduate students in mind, it focuses upon the pre-trial or investigative phase of the legal process. Obtaining and assessing witness evidence is a key part of any criminal investigation. Topics include witness accuracy and credibility, covering issues such as assessment of witness credibility, interviewing suspects and witnesses, eyewitness testimony, false beliefs and memory, the role of experts and juries.

This second edition has been revised and updated to reflect the large amount of new research in the area, making it the essential guide for all courses with a legal component.

Comment on the first edition:

"This is an excellent appraisal of the psychology of evidence...it provides thorough, substantial and up-to-date accounts of modern developments."
—Denniss Howitt, Loughborough University, UK
Written by well known and respected authors
Suitable as an introductory, undergraduate text
ABOUT THE AUTHORS.
PREFACE.
Chapter 1: INTRODUCTION.
Chapter 2: TELLING AND DETECTING LIES.
Some Characteristics of Deception.
Nonverbal Behaviour and Deception.
Verbal Behaviour and Deception: Criteria-Based Content Analysis.
Physiological Reactions and Deception: The Polygraph.
Detecting Lies.
Difficulties and Pitfalls for Lie Detectors.
Summary and Conclusion.
Chapter 3: FACIAL APPEARANCE AND CRIMINALITY.
Matching Faces to Crimes.
Attractiveness.
Facial Appearance and Deceit.
Police Officers.
Children.
Facial Surgery for Criminals.
Frequency of Facial Abnormality.
Weak Methodologies.
Does Facial Appearance have an Effect in the Courtroom?
Attributions of Responsibility.
Group Decision Making.
Meta-analysis.
Real-Life Court Proceedings.
Summary and Conclusion.
Chapter 4: INTERVIEWING SUSPECTS.
How to Get the Suspect to Talk.
How to Let the Suspect Talk.
How Many Suspects Confess and Why?
Quality of the Interview.
False Confessions.
Summary and Conclusion.
Chapter 5: INTERVIEWING WITNESSES.
The Effects of Long Delays.
Facial Identification.
Individual Differences.
Suggestibility.
Suggestion from Stereotypes.
Interviewing Vulnerable Witnesses.
Contributions from Cognitive Psychology.
Contributions from Social Psychology.
Interviewer Manner.
Summary and Conclusion.
Chapter 6: PSYCHOLOGICAL FACTORS IN EYEWITNESS TESTIMONY.
Estimator Variables and System Variables in Eyewitness Identification.
Estimator Variables.
System Variables.
Summary and Conclusion.
Chapter 7: FALSE MEMORIES.
Repression, Amnesia and Memory for Early Childhood Experiences.
Adults' Memories for Traumatic and Non-traumatic Events.
Implanting False Memories.
Mechanisms Responsible for the Creation of False Memories and Beliefs.
Verifying the Accuracy of Recovered Memories in the Courtroom.
Summary and Conclusion.
Chapter 8: JURY DECISION MAKING.
The Jury System in Different Countries.
Empirical Research on Juries: Methodology.
Juror Characteristics.
How the Social Perceptions of Jurors May Influence Decisions.
Social Identity and Juror Decisions.
Prior Character Evidence.
Publicity Before and During the Trial.
The Story Model.
Evidence.
Aiding Juries.
Judge/Lawyer Characteristics.
Jury Deliberation.
Summary and Conclusion.
Chapter 9: THE ROLE OF EXPERT WITNESSES.
Admissibility of Expert Testimony.
Expert Testimony: Its Impact on Jury Decision Making.
Examples of Research on the Impact of Expert Testimony.
Ethical Issues.
The Hired Gun Effect.
Objectivity in Child Abuse Trials.
Summary and Conclusion.
REFERENCES.
INDEX.