Psychology and the Challenges of Life: Adjustment and Growth, 13th Edition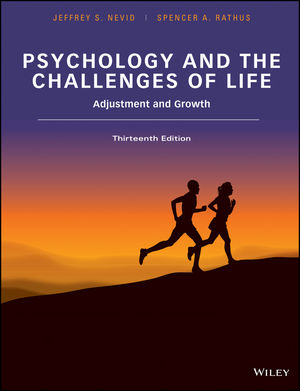 Psychology and the Challenges of Life: Adjustment and Growth, 13th Edition
Description
In the 13th edition of Psychology and the Challenges of Life: Adjustment and Growth, authors Jeffrey Nevid and Spencer Rathus continue to reflect on the many ways in which psychology relates to the lives we live and the important roles that psychology can play in helping us adjust to the many challenges we face in our daily lives. Throughout, the authors explore applications of psychological concepts and principles in meeting life challenges such as managing our time, developing our self-identity, building and maintaining friendships and intimate relationships, adopting healthier behaviors and lifestyles, coping with stress, and dealing with emotional problems and psychological disorders.
WileyPLUS Learning Space addresses the challenges of student readiness and retention, and helps instructors and students improve learning outcomes by integrating course content with learning tools, assessment, and practice activities in one platform.
Designed to engage today's student, WileyPLUS Learning Space is an easy way to help your students learn, collaborate, and grow. Using the Course Stream and dynamic e-textbook, students will ask more questions, share more insights, and see how their participation leads to progress.
Applies psychological principles to aid readers in meeting the challenges they face in their daily lives, to solve problems, and to reach their individual potentials
Communicates the scientific nature of psychology through coverage of research methods, and the review of classic and current studies in the field
Integrates coverage of human diversity throughout the text
Organized in modules to suit today's busy student
Applying Psychology in Daily Life section help students see how psychological knowledge discussed in the chapter applies to problems and issues of modern life