Psychology for Leaders: Using Motivation, Conflict, and Power to Manage More Effectively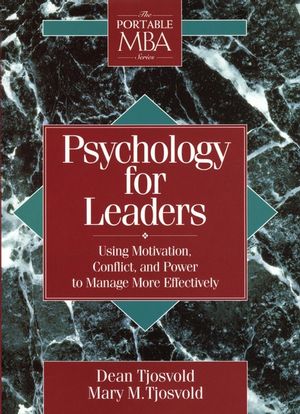 Psychology for Leaders: Using Motivation, Conflict, and Power to Manage More Effectively
ISBN: 978-0-471-59755-1 January 1995 283 Pages
Description
Willy Brandt once said that every good leader is also an amateurpsychologist. Nowhere is that more true than in today's new breedof business organization. In the high-involvement, high-commitmentorganization of the 1990s, every manager is called upon to assumethe role of leader, and the most successful leaders are those whopossess the psychological insight and skills needed to motivate andempower their staffs, facilitate teamwork and cooperation, andunite all those working under them in a common cause.

Now Psychology for Leaders arms you with the core psychologicalknowledge and skills you need to be an effective leader of adepartment, multilevel organization, or small business.

Written by two authors whose considerable expertise spans theworlds of both psychology and business, this book taps into thelatest research findings on the psychology of leadership and givesthem to you in a highly accessible, action-oriented form. Inaddition to gaining profound insights into human behavior in theworkplace and its underlying motivations, you'll learn how todevelop a motivating, uniting bottom line, how to strengthencooperation, foster teamwork and develop self-managing teams,improve your communication skills, express your feelings moreeffectively, manage conflict as a means of improving performanceand productivity, and much more.

In writing Psychology for Leaders, Dean and Mary Tjosvold also drewon material gleaned from interviews with dozens of managers in awide range of organizations in the U.S. and Canada, Europe andPacific Asia, as well as their experiences managing their ownmultimillion dollar health services corporation. As a consequence,throughout this fascinating and instructive book, the authors bringpsychological abstractions to life with many inspiring real-lifesuccess stories and vignettes that vividly illustrate psychology inaction in the workplace.

Psychology for Leaders was designed to provide managers with thepsychological training they need to be effective leaders. Readingit could very well prove to be one of the most important careermoves you'll ever make.

In today's "synergistic," team-oriented business organization,every manager is a leader. Now this fascinating and instructivebook schools you in the core psychological knowledge and skillsthat every manager/leader needs to motivate, empower, and unitetheir people effectively.

"I wish this book was available when we were designing a trainingprogram for new program managers. Although most leaders aretypically content experts, they have not studied the psychology ofleadership and this is what seems to cause them problems in theircareers. Psychology for Leaders provides insight into thesechallenges and recommends sound, practical approaches to achievingtheir business objectives."--Candice L. Phelan, PhD Human ResourceDevelopment Lockheed Missiles and Space Co., Inc. AustinDivision

"Dean and Mary Tjosvold have created a new, distinctly differentlearning approach to the elusive subject of leadership. Written ineveryday, understandable language and richly illustrated withpractical cases, it is a valuable guide to developing and enhancingleadership skills. I would urge anyone from the newest to the mostexperienced manager/executive to read and absorb this book. It willbe time profitably spent."--Richard J. Haayen Retired Chairman ofthe Board & CEO Allstate Insurance CompanyExecutive-in-Residence Southern Methodist University

"There are many books about leadership on the market. This oneprovides insight into the 'whys' behind the actions of successfulleaders. It's a practical how-to guide providing value for anyonewho wants to accept the leadership challenge."--Sue Elliot VicePresident of Human Resources TGI Friday Inc.
PSYCHOLOGY FOR SUCCESSFUL LEADING.

Your Bottom-Line Goals.

Learning Psychology.

FORGING A COMMON DIRECTION.

Becoming Committed to Leading.

Building Employee Commitment.

Developing a Shared Vision and Purpose.

WORKING TOGETHER.

Cooperation and Competition.

The Faces of Power.

Effective Communication.

Feelings and Their Expression.

MAKING USE OF PROBLEMS AND BARRIERS.

Making Decisions.

Managing Conflict.

Moving to Self-Directing Teams.

BECOMING LEADERS.

Becoming a Learning Organization.

Preparing for the Future.

Notes.

Index.