Psychology for South Australia Stage 2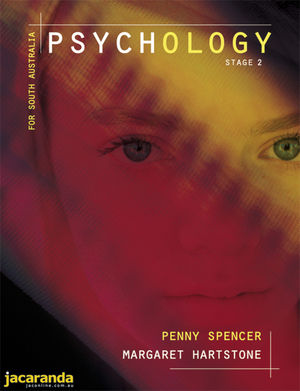 Psychology for South Australia Stage 2
ISBN: 978-0-731-40338-7
Jan 2007, Jacaranda
256 pages
Product not available for purchase
Description
Psychology for South Australia Stage 2 along with Psychology for South Australia Stage 1 offers students and teachers a comprehensive approach to this course for South Australian senior students.  
Written by a practising Stage 2 teacher and a practising psychologist, Psychology for South Australia: Stage 2 covers all the requirements of the Stage 2 curriculum statement.
Features
Stunning, full-colour design
Covers the six specified topics from the curriculum statement for Stage 2
Each topic addresses the four key aspects centrally important to the study of psychology: knowledge and understanding; application to social issues and/or personal growth; investigation designs and methods of assessing psychological responses and ethical issues
Topics are covered from a scientific perspective and examples of a broad range of empirical research methods are exemplified
Balanced coverage of the four levels of explanation of psychology across the prescribed topics
Each chapter is rich in tired and proven learning activities developed through experience in teaching psychology in the secondary school classroom
The broad range of learning activities enhances students' understanding of key concepts in an enjoyable and fun way
Psychological concepts addresses in the text are applied to everyday life experiences relevant to students' lives
Range of assessment tasks, multiple choice, short and extended answer questions for each chapter
A comprehensive glossary, bibliography and index.
Chapter 1: Nature of psychology
Defining psychology
Scientific nature of psychology
Psychology and psychiatry
Psychology as a profession
Levels of explanation
Chapter 2: Introduction to psychology
Quantitative and qualitative research
Investigation designs
Comparing qualitative and quantitative investigations
Reliability and validity in research
Sample and population
Objective and subjective data
Methods of assessing psychological responses
Making sense of research findings
Ethical considerations in psychological research
Responsibilities of the researcher
Use of animals in research
Chapter review
Chapter 3: Social cognition
Socio-cultural level of explanation
Structure of attitudes
Functions of attitudes
Bi-directional relationship between attitudes and behaviour
Principles governing attitude change
Social cognition principles in advertising
Social issue - reducing prejudice
Impression formation
Impression management
Personal growth
Measurement of attitudes
Self-report methods
Advantages and limitations of measurement devices
Ethics in conducting research using a questionnaire
Chapter review
Chapter 4: Learning
Neurobiology of learning
Basic learning processes
Behaviour modification
Learned helplessness
Systematic desensitisation
Social learning
Chapter review
Chapter 5: Personality
Issues in the psychology of personality
The neurobiology of basic emotional processes
Historical approaches to understanding and describing personality
Modern approaches to the development of personality
Personality in the lifespan
Personality disorders
Chapter review
Chapter 6: Altered states of awareness
Circadian rhythms
Sleep deprivation and sleep needs
Stages of sleep
Common sleep disorders
Shiftwork and workplace accidents
Fatigue and the road toll
Sleep hygiene
Psychological and physiological arousal
Psychological interventions for coping with stress
Methods of assessment
Chapter review
Chapter 7: Mental disorder
What is a healthy mind?
History of mental health
Mental disorders
Some mental disorders
Chapter review
Chapter 8: Developing healthy minds
Assessing effective treatments for mental disorders
Building a healthy mind
Being a mental health professional
Chapter review