Psychology in Action, 10th Edition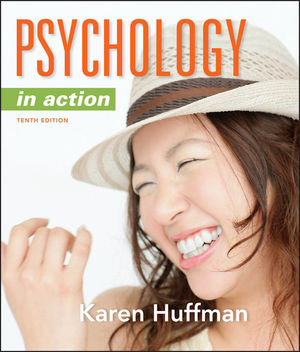 Psychology in Action, 10th Edition
Product not available for purchase
Description
Engage and Inspire through active learning with Karen Huffman's Psychology in Action,the acknowledged leader of active learning and student success. This flagship book's new edition helps students examine their own personal studying and learning styles with several new pedagogical aids -- encouraging students to apply what they are learning to their everyday lives. Through its welcoming voice, Psychology In Action continues to offer a program through the book and media with ongoing study tips and psychological techniques for mastering the material as well as integration of technology through WileyPLUS.

Additionally, author Karen Huffman has created a new Video Tutorial Series explaining and contextualizing over 80 of the most difficult concepts in introductory psychology by using examples and applications not discussed in the text; hands-on demonstrations developed in the author's classroom; and "virtual field trips" in which students see psychology in real world settings.

Psychology in Action is available in alternate versions (eBooks and custom) for professors and students. For more information, visit the "Instructor's Resource" tab or "Student Resource" tab below.
Preface xiii
Engaging and Inspiring Today's Students! Xiii
What's New in the Tenth Edition? Xiv
Continuing Features xix
Supplements xxv
Acknowledgments xxviii
Prologue xxxiii
Student Engagement Through Critical Thinking xxxiii
Chapter One. Introduction to Psychology and Its Research Methods 3
Chapter Two. Neuroscience and Biological Foundations 51
Chapter Three. Stress and Health Psychology 93
Chapter Four. Sensation and Perception 125
Chapter Five. States of Consciousness 167
Chapter Six. Learning 205
Chapter Seven. Memory 247
Chapter Eight. Thinking, Language, and Intelligence 283
Chapter Nine. Life Span Development I 323
Chapter Ten. Life Span Development 359
Chapter Eleven. Gender and Human Sexuality 387
Chapter Twelve. Motivation and Emotion 421
Chapter Thirteen. Personality 457
Chapter Fourteen. Psychological Disorders 491
Chapter Fifteen. Therapy 531
Chapter Sixteen. Social Psychology 567
Chapter Seventeen. Industrial/Organizational Psychology 607
Chapter Eighteen Psychology at Work in the Global Economy 637
Appendix A. Statistics and Psychology
Appendix B. Answers to Review Questions and Other Activities
Glossary
References
Photo Credits
Text and Illustration Credits
Name Index
Subject Index
NEW! The interior has been entirely re-designed in order to help readers to move through the concepts with maximum clarity and minimum distraction.
NEW Research Challenges present expanded discussions of the latest research on "Hot Topics" (such as Embodied Cognition), followed by a special Student Engagement Exercise, which asks students to identify the hypothesis, research method, IV, DV, etc.  This repeatedly reinforces the most essential student learning objectives -- the mastery of the scientific method and its various components.  Few, if any, intro texts ever revisit this material past Chapter 1, much less provide interactive, self-testing opportunities. 
A NEW Expanded Psychology Engages section has been included at the end of each chapter. This increases the flow of the most essential material, while still preserving the highly engaging, supplemental material to successfully enrich learning.
NEW Myth Busters are integrated throughout each chapter and encourage students to think critically about previous psychological misperceptions and myths.
NEW Test Yourself  is integrated throughout Psychology in Action asks students to respond to highly engaging personality questionnaires and self-reflection exercises in order to increase their motivation and engagement while also improving understanding of key terms and core concepts. [This feature differs from the preexisting "Try This Yourself" because it focuses on "self-tests" (e.g., "What Are Your Major Hassles?" "Are You Resilient?") versus hands-on exercises related to specific textual material (e.g., "Do You Have a Blind Spot?")] 
NEW, Upgraded, and renamed Step-by-Step Diagrams and Concept Organizers, with a small, STOP sign icon and a note to the reader saying: This Step-by-Step diagram [or Concept Organizer] contains essential information NOT found elsewhere in the text, which is likely to appear on quizzes and exams. Be sure to study it CAREFULLY!
NEW, Upgraded, and renamed Stop & Review feature. The previously named "Check & Review" feature has been changed by:

Streamlining and moving the previous learning objectives and answers to the new narrative summary at the end of the chapter.
Adding a NEW "Retrieval Practice" section that reflects the latest research on the most effective technique for learning and retention.
Increasing the previous number of multiple-choice and fill-in questions.

UPGRADED Visual Summaries follow the NEW narrative summaries and are now more visually appealing and less textual. Narrative Summaries present the learning objectives distributed throughout the chapter, along with sample answers, in a two-page spread at the end of each chapter. 
Karen Huffman's Psychology in Action is the recognized leader in critical thinking and active learning and was the first Intro Psych text to implement both..
Visual Quizzes: Photos, cartoons, and figures are used to add visual dimension to the learning experience. Quizzes are accompanied by questions that help students assess their understanding of topics.
Tools for Student Success: Active Reading, Strategies for Grade Improvement, Time Management and Study Tips.
Why Study Psychology? Chapter Openers: Each chapter now begins with a brief overview of the benefits and special high points of the chapter to help motivate and excite the reader.
Personal Story/Case Study: In response to professor and student requests, Psychology in Action contains short vignettes sprinkled throughout the text.