Psychology in Action, 11th Edition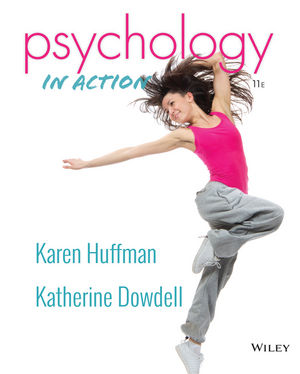 Psychology in Action, 11th Edition
Product not available for purchase
Description
Engage and inspire through active learning with Karen Huffman and new co-author, Katherine Dowdell's Psychology in Action 11th Edition Binder Ready Version, the acknowledged leader of active learning and student success. Designed for introductory psychology courses, this flagship book helps students examine their own personal studying and learning styles with several new pedagogical aids -- encouraging students to apply what they are learning to their everyday lives. Through its welcoming voice, Psychology in Action 11th Edition Binder Ready Version continues to offer a program with ongoing study tips and psychological techniques for mastering the material. This text is an unbound, binder-ready version.
New co-author Katherine Dowdell, Psychology Professor at Des Moines Area Community College, a longtime user of Psychology in Action with WileyPLUS.
New videos, featuring authors Karen Huffman and Katherine Dowdell, cover core topics in Psychology and feature active learning demonstrations.
New instructor's guide to classroom demonstration videos, prepared by Melissa Patton, Eastern Florida State College, provides instructors with a visual, step-by-step guide to incorporating engaging and relevant classroom demonstrations for each chapter.
Exciting, evidence-based new in-text features, such as Objectives At A Glance and Chapter Review Application Quiz, offers students additional guidance and feedback throughout their journey in Psychology.
Psychology in Action is a market-leading Intro to Psych program written by Karen Huffman and Katherine Dowdell, leading authorities in active learning.


Driven by themes of student engagement, thorough pedagogy and learning-by-doing, this title has empowered thousands of students to retain the concepts of psychology by learning in a way that is meaningful to them.
Based on cognitive science, WileyPLUS with ORION provides students with a personal, adaptive learning experience so they can build their proficiency on topics and use their study time most effectively. WileyPLUS with ORION helps students learn by learning about them.
WileyPLUS Learning Space: WileyPLUS Learning Space is an easy way for students to learn, collaborate, and grow. With WileyPLUS Learning Space, students create a personalized study plan, assess progress along the way, and make deeper connections as they interact with the course material and each other.
Through a combination of dynamic course materials and visual reports, this collaborative learning environment gives you and your students immediate insight into strengths and problem areas in order to act on what's most important.