Psychology in Action, 12th Edition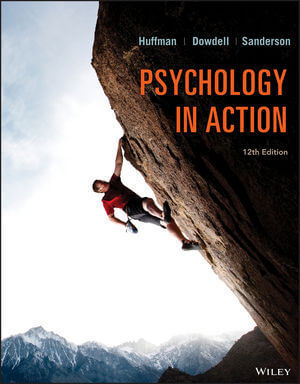 Psychology in Action, 12th Edition
ISBN: 978-1-119-39483-9
Nov 2017
Description
Psychology in Action, 12e is a comprehensive introductory Psychology product that fosters active learning and provides a wealth of tools that empower students to master and make connections between the key concepts. Students will leave the classroom with a solid foundation in basic psychology that will serve them in their daily lives no matter what their chosen field of study and career path.
Grit and a Growth Mindset: Studies find that "grit" and a "growth mindset" may be even more important than IQ in determining individual success in work and academic settings. With this in mind, each course section begins with a brief description of a famous figure who exemplifies both qualities and then references those stories later in the section to illustrate core concepts. These repeated stories of success reassure students that achievement is largely under their control and thereby inspires them to use grit and a growth mindset to achieve their own person dreams and aspirations. Each course section includes a "Psychology and a Contemporary Success" or a "Psychology and a Classical Success" story.
Personal and Professional Success: The course also includes two all new-features ("Psychology and Your Personal Success" in every section, and in most sections, "Psychology and Your Professional Success") to further demonstrate how knowing psychology, along with a growth mindset and grit, can help students succeed in the real world.
New Animations, Tutorial Videos, and Mini-Courses: A variety of the animations and video tutorials included in the course are new. The course now also features video "Mini-Courses" to support students in learning complex topics.
Support for Developing Critical Thinking Skills:A special "Critical Thinking" preface and structured exercises throughout each course section provide the scaffolding and framework for students to develop their critical thinking skills. Connections questions in each end-of-section Retrieval Practice activity strengthen students' grasp of concepts and ability to relate concepts from one course section to another and to the seven major perspectives of psychology.
Opportunities to Connect Concepts to Real Life: "Why Study Psychology?" and "Try This Yourself" features are among the many opportunities each course section provides for students to make connections between the concepts they're learning and their everyday lives.