Psychology in Social Context: Issues and Debates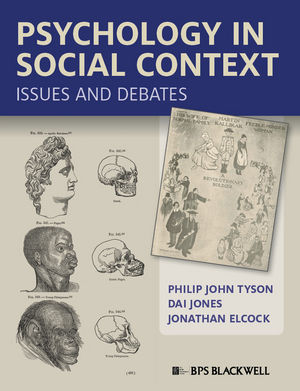 Psychology in Social Context: Issues and Debates
ISBN: 978-1-405-16824-3 May 2011 Wiley-Blackwell 296 Pages
Description
Psychology in Social Context: Issues and Debates provides a critical perspective on debates and controversies that have divided opinion within psychology both past and present. 
Explores the history of psychology through examples of classic and contemporary debates that have split the discipline and sparked change, including race and IQ, psychology and gender, ethical issues in psychology, parapsychology and the nature-nurture debate
Represents a unique approach to studying the nature of psychology by combining historical controversies with contemporary debates within the discipline
Sets out a clear view of psychology as a reflexive human science, embedded in and shaped by particular socio-historical contexts
Written in an accessible style using a range of pedagogical features - such as set learning outcomes, self-test questions, and further reading suggestions at the end of each chapter 
About the Authors.
Preface.
1 The Nature of Psychology.
2 Psychology and Society.
3 Psychology, Intelligence, and IQ.
4 Psychology and Race.
5 Psychology and Women.
6 Beyond Nature Versus Nurture.
7 Psychology in Service to the State.
8 Ethical Standards in Psychology.
9 Personality and Personality Tests.
10 Psychology and Mental Health.
11 Freud and Psychology.
12 Parapsychology.
13 Psychology in Everyday Life.
14 Further Issues in Psychology.
15 Psychology at Issue?
Selected Glossary.
References.
Index.
"These issues aside, this is a compelling and wide-ranging book that encourages the reader to look for the moral values and cultural assumptions at the heart of the apparently unbiased science that is psychology." (The Psychologist, 1 November 2011)
"Presenting important ideas about the ways that psychologists view the knowledge they generate, this book would be a good companion to a textbook based on the conventional hypothetical-deductive model of research. Recommended. Lower-division undergraduates through faculty." (Choice, 1 October 2011)
More details to follow.