Psychosis and Spirituality: Consolidating the New Paradigm, 2nd Edition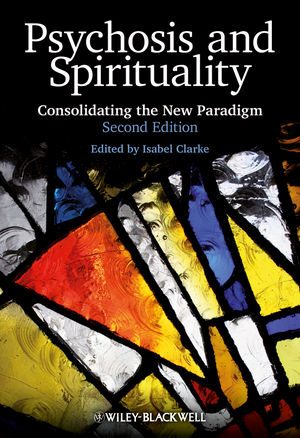 Psychosis and Spirituality: Consolidating the New Paradigm, 2nd Edition
ISBN: 978-0-470-97029-4 October 2010 304 Pages
Download Product Flyer
Download Product Flyer
Download Product Flyer is to download PDF in new tab. This is a dummy description. Download Product Flyer is to download PDF in new tab. This is a dummy description. Download Product Flyer is to download PDF in new tab. This is a dummy description. Download Product Flyer is to download PDF in new tab. This is a dummy description.
Description
The new edition of this successful text builds on the very latest research to present an original and unique exploration of the psychology of both spirituality and psychosis. The editor brings together fascinating perspectives from a broad range of distinguished contributors.
This new edition covers the most recent body of research, both qualitative and quantitative, in its exploration of the interface between psychosis and spirituality, and investigation into anomalous experiences
Ten new chapters added and the remaining text completely updated
New to this edition is an expanded clinical section, relevant to clinicians working with psychosis
Offers a fundamental rethink of the concept of psychosis, and proposes new insights into spirituality
Includes feature chapters from a distinguished list of contributors across a broad range of disciplines, including Peter Fenwick, Peter Chadwick, David Kingdon, Gordon Claridge, Neil Douglas Klotz and David Lukoff
Table of contents
List of Figures.
Acknowledgement.
Notes on Editor and Contributors.
1 Psychosis and Spirituality Revisited: The Frontier is Opening Up! (Isabel Clarke).
Section 1. Neuropsychology.
2 The Neurophysiology of Religious Experience (Peter Fenwick).
3 Cognitive Neuroscience, Spirituality and Mysticism: Recent Developments (B. Les Lancaster).
Section 2. Spirituality Revisited.
4 The Polarities of Consciousness (Natalie Tobert).
5 Missing Stories: Psychosis, Spirituality and the Development of Western Religious Hermeneutics (Neil Douglas-Klotz).
Section 3. The Mystical Face of Psychosis: The Psychotic Face of Mysticism. The New Continuum.
6 'On Not Drinking Soup with a Fork': From Spiritual Experience to Madness to Growth – A Personal Journey (Peter K. Chadwick).
7 Spiritual Experience: Healthy Psychoticism? (Gordon Claridge).
8 'Psychopathology', 'Psychosis' and the Kundalini: Post-Modern Perspectives On Unusual Subjective Experience (Richard House).
Section 4. The Discontinuity Hypothesis and its Philosophical Implications.
9 Psychosis and Spirituality: The Discontinuity Model (Isabel Clarke).
10 Knowledge and Reality (Chris Clarke).
Section 5. Research.
11 Are Delusions on a Continuum? The Case of Religious and Delusional Beliefs (Emmanuelle Peters).
12 The Paradigm-Shifting Hypothesis: A Common Process in Benign Psychosis and Psychotic Disorder (Mike Jackson).
13 Transformative Crises (Caroline Brett).
14 Exploring the Transliminal: Qualitative Studies (Sharon Warwick and Roger Waldram).
Section 6. Clinical Implications.
15 'What is Real and What is Not': Towards a Positive Reconceptualisation of Vulnerability to Unusual Experiences (Isabel Clarke).
16 Visionary Spiritual Experiences (David Lukoff).
17 Learning to Become Centred and Grounded and Let the Voices Come and Go (Nigel Mills).
18 Mapping Our Madness: The Hero's Journey as A Therapeutic Approach (Janice Hartley).
19 Spirituality, Psychosis and the Development of 'Normalising Rationales' (David Kingdon, Ron Siddle, Farooq Naeem and Shanaya Rathod).
20 Endword (Isabel Clarke).
References.
Index.
Reviews
"The new edition of this successful text builds on the very latest research to present an original and unique exploration of the psychology of both spirituality and psychosis. The editor brings together fascinating perspectives from a broad range of distinguished contributors." (Studies in Spirituality, 2011)
"This book is an updated and expanded version of a collection of essays first published about ten years ago, when some of the ideas it explores were fairly news ... This book is generally written at an accessible level, and draws on much useful recent research in this area. Section 5, entitled 'Research', would be the most fruitful part for a non-specialist to sample." (The Way, 1 January 2012)
"In a valuable contribution to this expanding field, consultant clinical psychologist Clarke (NHS Foundation Trust, UK) thus introduces 20 chapters by UK-based multidisciplinary authors that explore the neuropsychology of such experiences, culture-specific ideas of spirituality and psychosis, psychosis/ mysticism as a continuum, recent research in this area, and clinical implications (e.g., the "mad" hero's journey as a therapeutic approach)." (Book News, 1 August 2011)
"This book is aimed at anyone interested in the phenomenon of psychosis." (Mental Health Practice, 1 March 2011)