Psychosocial Treatment of Schizophrenia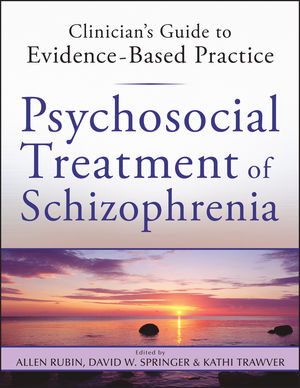 Psychosocial Treatment of Schizophrenia
ISBN: 978-1-118-01222-2
Feb 2011
388 pages
Description
Praise for the Clinician's Guide to Evidence-Based Practice Series
""A major stumbling block to the adoption of evidence-based practice in the real world of clinical practice has been the absence of clinician-friendly guides suitable for learning specific empirically supported treatments. Such guides need to be understandable, free of technical research jargon, infused with clinical expertise, and rich with real-life examples. Rubin and Springer have hit a home run with the Clinician's Guide to Evidence-Based Practice Series, which has all of these characteristics and more.""
—Edward J. Mullen, Willma and Albert Musher Chair Professor, Columbia University
State-of-the-art, empirical support for psychosocial treatment of schizophrenia
Part of the Clinician's Guide to Evidence-Based Practice Series, Psychosocial Treatment of Schizophrenia provides busy mental health practitioners with detailed, step-by-step guidance for implementing clinical interventions that are supported by the latest scientific evidence.
This thorough, yet practical, reference draws on a roster of experts and researchers in the field who have assembled state-of-the-art knowledge into this well-rounded guide. Each chapter serves as a practitioner-focused how-to reference and covers interventions that have the best empirical support for the psychosocial treatment of schizophrenia, including:
Cognitive behavioral therapy
Assertive community treatment
Critical time intervention
Motivational interviewing for medication adherence
Psychoeducational family groups
Illness management and recovery
Easy-to-use and accessible in tone, Psychosocial Treatment of Schizophrenia is an indispensable resource for practitioners who would like to implement evidence-based, compassionate, effective interventions in the care of people with schizophrenia.
Series Introduction.
Preface.
Acknowledgments.
About the Editors.
About the Contributors.
Chapter 1: Overview and Clinical Implications of Schizophrenia (Allen Rubin and Kathi R. Trawver).
Chapter 2: A Guide to Implementation and Clinical Practice of Illness Management and Recovery for People with Schizophrenia (Piper S. Meyer, Susan Gingerich, and Kim T. Mueser).
Chapter 3: Psychoeducational Family Gropus (Ellen Lukens and Helle Thorning).
Chapter 4: Cognitive-Behavioral Therapy for Schizophrenia (Dennis R. Combs).
Chapter 5: Assertive Community Treatment (Kathi R. Trawver).
Chapter 6: Critical Time Intervention (Daniel Herman, Sarah Conover, and Jeffrey Draine).
Chapter 7 Motivational Interviewing for Medication Adherence (Stanley G. McCracken & Jonathon E. Larson).
Appendix A: Research Providing the Evidence Base for the Interventions in this Volume (Kathi R. Trawver and Allen Rubin).
Appendix B: The Evidence-Based Practice Process (Allen Rubin).
Appendix C: Atypical Antipsychotic Medications for Treating Schizophrenia (Kathi R. Trawver).
Author Index.
Subject Index.