Psychotherapy for Depression in Older Adults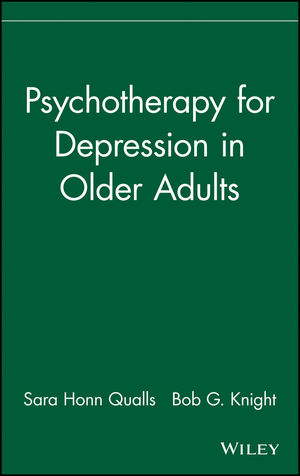 Psychotherapy for Depression in Older Adults
ISBN: 978-0-470-05448-2
Apr 2007
304 pages
Description
The first book in the new Wiley Series on Geropsychology, Psychotherapy for Depression in Older Adults is a practical resource created by a team of international luminaries in the field. Developed in conjunction with the Gerontology Center of the University of Colorado, this expert guide provides evidence-based treatment approaches for alleviating depression in older adults.
Preface.
Contributors.
PART I: Depression and Aging (Sara H. Qualls).
1 Unique Aspects of Psychotherapy with Older Adults (Bob G. Knight).
2 The Nature of Depression in Later Life (Amy Fiske).
3 Assessing Depression in Older Adults (Melissa Snarski and Forrest Scogin).
PART II: Therapy Systems (Bob G. Knight).
4 Cognitive Behavior Therapy with Older Adults (Ken Laidlaw).
5 Interpersonal Psychotherapy with Older Adults (Gregory A. Hinrichsen).
6 Problem-Solving Therapy with Older Adults (Patricia A. Areán and Terri Huh).
7 Evidence-Based Psychological Treatment with Older Adults (Forrest Scogin and Adriana Yon).
Part III: The Contexts of Geropsychology Practice (Sara H. Qualls).
8 The Social and Cultural Context of Psychotherapy with Older Adults (Martha R. Crowther, Gia Robinson Shurgot, Martinique Perkins, and Rachel Rodriguez).
9 Psychotherapy in the Context of Long-Term Care (Deborah W. Frazer).
10 The Basics of Building and Managing a Geropsychology Practice (Paula E. Hartman-Stein).
Appendix A: Sample Form for Case Progress Notes for Psychotherapy and Health and Behavior Interventions.
References.
Author Index.
Subject Index.
""A ground-breaking book that is certain to become a classic in the field. It is well written and highly informative, and it brings the latest material on research and treatment of the disorder to therapists and administrators of homes for older people who are depressed as well as to confused families and caretakers...It is a model of how clear and exciting academic writing can be when written by knowledgeable professionals who are gifted writers. The book is highly recommended for all who are connected in any way with an elder person who is depressed and for students of all schools of psychology.""
—Alma H. Bond (
PsycCRITIQUES
, August 15, 2007)
""…a fine book that should be required reading for anyone connected with adults who are depressed."" (PsycCritiques, Monday 24th September 2007)