Public Art: Theory, Practice and Populism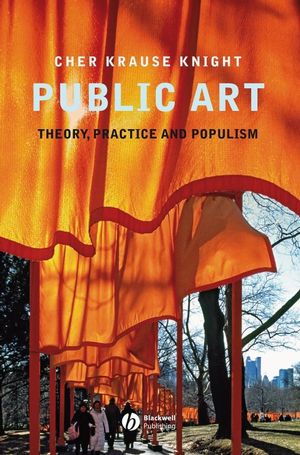 Public Art: Theory, Practice and Populism
ISBN: 978-1-405-15558-8 April 2008 Wiley-Blackwell 208 Pages
Description
This book takes a bold look at public art and its populist appeal, offering a more inclusive guide to America's creative tastes and shared culture. It examines the history of American public art – from FDR's New Deal to Christo's
The Gates
– and challenges preconceived notions of public art, expanding its definition to include a broader scope of works and concepts.
Expands the definition of public art to include sites such as Boston's Big Dig, Las Vegas' Treasure Island, and Disney World
Offers a refreshing alternative to the traditional rhetoric and criticism surrounding public art
Includes insightful analysis of the museum and its role in relation to public art
Table of contents
Dedication.
Acknowledgements.
Preface.
1. Introduction: A Short History of the United States' "Official" Public Art.
Roosevelt's New Deal.
General Services Administration's Art-in Architecture Program.
National Endowment for the Arts' Art-in-Public-Places Program.
2. Conventional Wisdom: Populist Intentions within Established Paradigms.
Art as Monument, Art as Memorial.
Art as Amenity.
Art in the Park, Art as the Park.
Art as the Agora.
Art as Pilgrimage.
3. Culture to Go: From Art World to The World.
What Museums Do for Us.
My Museum.
Education, Outreach, Programming.
The Alternative Museum/Alternatives to Museums.
4. Not Quite "Art," Not Quite "Public": Lessons from the Private Sector.
The Art of Entertainment.
This is Special, I am Special.
Open Pocketbook, Open Agenda?.
Embracing Spectacle.
5. Super Viewer: Increasing Individual Agency on the Public Art Front.
Power to the People.
Claiming Space and Place.
Dig In.
6. Conclusion: Art for All?.
The Trouble with (Re)Development.
Nonprofits and the Ephemeral Idyll.
Back to School.
Grieving Loss, Remembering Life.
Two Tales in One City.
Bibliography.
Index
Reviews
"Overall,
Public Art
is a provocative and impressive study of contemporary public art that is ambitious in its pursuit of populist virtues. ... Knight's book is an excellent example of art-historical scholarship." (
The Journal of Aesthetics and Art Criticism
, January 2010)
"[Knight] offers a twenty-first-century definition of public art." (AfterImage, July 2009)
"A broad account of public art in the United States, from its history and growth to its current meaning and purpose." (Sculpture Magazine, March 2009)
"The thorough bibliography will greatly benefit public art professionals, artists, art historians, and laypersons. Providing a detailed, frank account of public art and viewer agency across the broadest spectrum, Public Art offers insight into works that might be beyond traditional conceptions. By bringing art that is often at the margins to the center, Knight offers fresh ideas on a subject ripe for further discussion. Recommended." (Choice, November 2008)
"Cher Krause Knight … focuses on the notion of populist involvement as the yardstick by which to measure public art projects. She touches on well-known moments in the history of public art to illustrate the ways that the public has been variously excluded, humored, harangued, or genuinely integrated into projects. Most interesting are her musings on commercial sites, like Disney's Magic Kingdom and Las Vegas casinos. In their admittedly pandering capacity for spectacle, she argues, such places include the public in ways that snooty art commissions don't—whatever you say about their aesthetic values." (Public Art Review, Fall 2008)
Features


Takes a bold look at public art and its populist appeal, offering a more inclusive guide to our creative tastes and shared culture

Examines the history of American public art – from the New Deal to Christo and Jeanne-Claude's The Gates

Expands the definition of public art to include sites such as Boston's Big Dig, Las Vegas' Treasure Island, and Disney World

Offers a refreshing alternative to the traditional rhetoric and criticism surrounding public art

Includes insightful analysis of the museum and its role in relation to public art