Public Health Skills: A Practical Guide for nurses and public health practitioners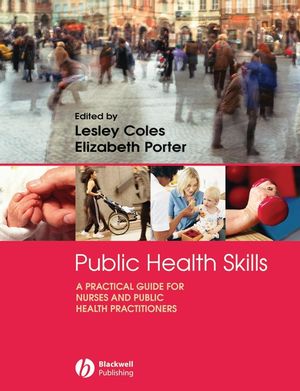 Public Health Skills: A Practical Guide for nurses and public health practitioners
ISBN: 978-1-444-30257-8 January 2009 Wiley-Blackwell 304 Pages
Description
Nurses and other public health practitioners have a crucial role to play in helping to improve the collective well being of society and so developing skills in public health - preventing disease, prolonging life and promoting health – is key to this process.
Public Health Skills: A practical guide for nurses and public health practitioners
covers the complete spectrum of public health practice: the effective assessment and management of need, understanding policy and how to affect its implementation; before moving on to explore practical issues and themes surrounding the facilitation of public health. Within the four sections of the book, the text is organised around the ten core public health skills outlined in the National Occupational Standards for the practice of public health, covering skills including surveillance and assessment, collaborative working, working with communities, strategy development, risk management, leadership and ethics.
Public Health Skills: A practical guide for nurses and public health practitioners provides the fundamental, essential knowledge and skills required to provide safe and effective practice and is an invaluable resource for all those connected to this vital, challenging and rapidly expanding aspect of health provision.
Table of contents
Introduction.
Tour Guide.
Section 1: Assessment of public health needs.
1. Assessing and Identifying Health Needs: theories and frameworks for practice.
2. Health Needs Assessment :appraising and measuring need.
3. Needs Assessment.
Section 2: Management of public health needs.
4. Collaborative Working: organisational development for community participation.
5. Partnerships for Public Health: user involvement to improve health and wellbeing.
6. Partnerships for Pulic Health: professional involvement to improve health and wellbeing.
7. Communication and You.
Section 3: Public Health Policies and their Impact on Practice.
8. Appraising and Influencing Health Policy and Strategy.
9. Strategic Leadership for Health and Wellbeing.
10. Health Protection and the Role of the Public Health Nurse.
11. Research and Development: analysis and interpretation of evidence.
12. Quality and Risk Management in Primary Care Settings.
Section 4: Facilitation of Public Health Activities.
13. Quality and Risk Management: safe guarding children and vulnerable groups.
14. Developing Programmes, Services and Reducing Inequalities.
15. Programme Planning for Health Education.
16. Ethically Managing Self, People and Resources to Improve the Health and Wellbeing of Patients and Clients in the Community.
Glossary of terms.
Index
Reviews
"The book fills a niche in public health practice literature, especially the first two sections, which are broadly applicable and particularly helpful." (
Doody's Reviews
, June 2009)
"This has been written for pre-registration nurses as well as public health practitioners and it focuses, exactly as the title states, on public health practice. Easy to read and well laid out there is a section on "how to use this book" helping the reader to get the most out of any reading and exercises. The book has four sections (which are further subdivided into chapters) "Assessment of Public Health Need", "Management of Public Health Needs", "Policies that impact" and finally "Facilitation of Public Health Activities". Practical examples are cited to illustrate points along with practical tips and useful activities and case study examples to help the reader understand points and explore issues in their own area. The book integrates the 3 different approaches to public health with the 4 key principles and 10 occupational standards. This is a well written book that is likely to become an 'essential text' for many and find itself on reading lists for pre-registration nursing courses as well as other public health courses. This is comprehensive textbook on public health will be a useful resource for teachers and practitioners engaged in public health as well as students." (Journal of Community Nursing)
What's New


The first text specifically devoted to the development of public health skills for nurses

Draws on the National Occupational Standards for the practice of public health

Adapts the four domains and 10 principles identified in the NMC Standards of proficiency for specialist community public health nursing (NMC 2004)

Includes examples to demonstrate how public health theories and policies are applied in everyday nursing practice