Public Life and Public Lives: Essays in Honour of Richard W. Davis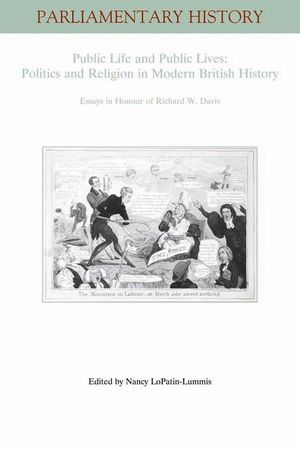 Public Life and Public Lives: Essays in Honour of Richard W. Davis
ISBN: 978-1-405-18160-0
Mar 2008, Wiley-Blackwell
200 pages
Description
This volume consists of fourteen essays and an introduction all addressing the interconnection between modern party and electoral politics or political culture and disestablished religious organizations in modern British history – the main areas of scholarly interest for Richard W. Davis, Professor Emeritus, Washington University, St Louis.






Questions how individuals envision the public good in modern Britain and how, through religious and moral beliefs, coupled with wisdom and political savvy, they can improve the public good through the ever-changing nineteenth century political institutions

Essays range from studies of local electoral politics and parliamentary reform campaign to national political party organization, high politics and the role religion and empire played in the creation of national policy

Examines the influence of individuals on the political process through their professional work in historical and philosophical writing, journalism and missionary work at home and abroad

Provides new original research in the area of modern British political history together in Parliamentary History
Preface.
List of Contributors.
Acknowledgments.
Bibliography of the Publications of Richard W. Davis compiled by Nancy LoPatin-Lummis.
A Public Life: Richard W. Davis, Historian, Mentor and Gentleman: Nancy LoPatin-Lummis (University of Wisconsin-Stevens Point).
Introduction: Nancy LoPatin-Lummis (University of Wisconsin-Stevens Point).
Section I: Public Life:.
1. Managers and Agents: Conservative Party Organisation in the 1850s: Edwin Jaggard.
2. 'Underhand Dealings with the Papal Authorities': Disraeli and the Liberal Conspiracy to Disestablish the Irish Church: Padraic C. Kennedy (York College of Pennsylvania).
3. A Usable Past: History and the Politics of National Identity in Late Victorian England: Richard A. Cosgrove (University of Arizona).
4. T.H. Green and the Dissidence of Dissent: On Religion and National Character in Nineteenth-Century England: Denys P. Leighton (Tulane University).
5. Een-Gonyama Gonyama!: Zulu Origins of the Boy Scout Movement and the Africanisation of Imperial Britain: Timothy Parsons (Washington University).
6. 'The Cow is Still the Most Important Figure in Indian Politics!': Religion, Imperial Culture and the Shaping of Indian Political Reform in the 1930s: Andrew Muldoon (Metropolitan State College of Denver).
Section II: Public Lives:.
7. Sir John Coxe Hippisley: That 'Busy Man' in the Cause of Catholic Emancipation: Susan Mitchell Sommers (St Vincent College, Latrobe).
8. 'With All My Oldest and Native Friends'. Joseph Parkes: Warwickshire Solicitor and Electoral Agent in the Age of Reform: Nancy LoPatin-Lummis (University of Wisconsin-Stevens Point).
9. 'Meddling with Politics': The Political Role of Foreign Missions in the Early Nineteenth Century: Michael A. Rutz (University of Wisconsin-Oshkosh).
10. After Emancipation: Thomas Fowell Buxton and Evangelical Politics in the 1830s: Richard R. Follett (Covenant College).
11. A Provincial Minister in Politics: Henry W. Crosskey: R.K. Webb (University of Maryland).
12. The Archbishop of Canterbury, the Episcopal Bench, and the Passage of the 1911 Parliament Act: Derek W. Blakeley (McNeese State University).
13. Political Ideas and Audiences: The Case of Arthur Bryant and the Illustrated London News, 1936–1945: Reba N. Soffer (California State University).
Index
"The thirteen essays in the volume, written by former graduate students and colleagues, range widely in time, space, and subject matter, yet they collectively address issues of political biography, the role of ideas in politics, the nature of British electoral politics, and the constitutional position of the House of Lords, which have preoccupied Davis throughout his career." (History: Reviews of New Books, Winter 2009)


Contains 14 essays and an introduction addressing the main areas of scholarly interest for Richard W. Davis, Professor Emeritus, Washington University, St Louis


Questions how individuals envision the public good in modern Britain and how, through religious and moral beliefs, coupled with wisdom and political savvy, they can improve the public good through the ever-changing nineteenth century political institutions


Essays range from studies of local electoral politics and parliamentary reform campaign to national political party organization, high politics and the role religion and empire played in the creation of national policy


Examines the influence of individuals on the political process through their professional work in historical and philosophical writing, journalism and missionary work at home and abroad


Provides new original research in the area of modern British political history together in Parliamentary History