Public Policy and Economic Theory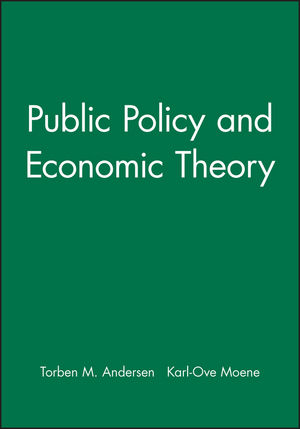 Public Policy and Economic Theory
ISBN: 978-0-631-20943-0
Oct 1998, Wiley-Blackwell
275 pages
Description
Does economic theory improve the basis for economic policy decisions? This question is considered by internationally well-known scholars who, within their field of expertise, address the connection between economic theory and public policy. Each paper is followed by comments from two experts to highlight the spectra of views on public policy and economic theory.
To mark 100 years of publication, Volume 100, No. 1 will contain the proceedings of
The Scandinavian Journal of Economics
100th Anniversary Symposium On Public Policy And Economic Theory. Contents include:.
Mats Persson on The First Century of The Scandinavian Journal of Economics.
Peter Hammond on Welfare and Public Economics.
Partha Dasgupta on Development Economics.
Michael Hoel on Environmental Economics.
Bertil Holmlund on Labor Economics.
David Hendry and Neil Ericsson on Econometrics.
Birgit Grodal on Mathematical Economics.
Peter Neary on International Trade.
Russell Cooper on Business Cycles.
Maurice Obstfeld on Open Macroeconomics.
Thrainn Eggertsson on Institutional Economics.
Roberto Perotti on Political Economy
* Discusses whether economic theory improves economic policies.
* Debates whether economic theory is relevant for actual problems of policy making.