Public Speaking and Presentations for Dummies, UK Edition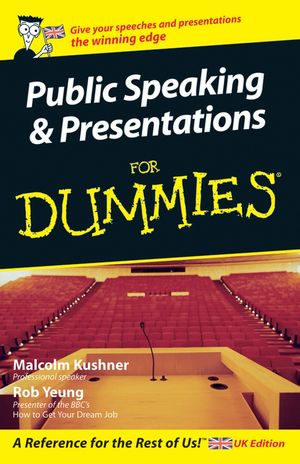 Public Speaking and Presentations for Dummies, UK Edition
ISBN: 978-1-119-99723-8 February 2011 288 Pages
Description
Includes memorable ways to start and finish your speech with a flourish
Straightforward advice on making your speeches sparkle
With the right preparation even the most nervous speaker can deliver a winning presentation. Public Speaking & Presentations For Dummies shows you how, from drafting your content to honing your tone for a perfect delivery. More confident speakers can find expert advice on getting visual aids right, impromptu speaking, dazzling in roundtables, and much more.
Discover how to
Organise your speech
Conquer your fears
Research content effectively
Get your body language right
Use humour properly
Speak to a foreign audience
Table of contents
Introduction.
Part I: Getting Started.
Chapter 1: Giving a Presentation or Speech.
Chapter 2: Getting Ready to Present.
Chapter 3: Making the Most of Research.
Chapter 4: Organising Your Presentation.
Part II: Preparing Your Presentation or Speech.
Chapter 5: Building the Content of Your Presentation.
Chapter 6: Getting Off on the Right Foot.
Chapter 7: Finishing on a High Note.
Part III: Making Your Presentation or Speech Sparkle.
Chapter 8: Making Sense of Your Presentation.
Chapter 9: Getting the Words Right.
Chapter 10: Developing Great Visual Aids.
Part IV: Delivering Your Presentation or Speech.
Chapter 11: Overcoming Nerves.
Chapter 12: Understanding Body Language.
Chapter 13: Handling Questions.
Chapter 14: Handling the Audience.
Part V: Common Speaking Situations.
Chapter 15: Giving Impromptu Talks and Introducing Other Speakers.
Chapter 16: Handling Panels and Roundtables.
Chapter 17: Speaking Internationally.
Part VI: The Part of Tens.
Chapter 18: Ten Types of Humour That Anyone Can Use.
Chapter 19: Ten Things to Check Before You Give a Presentation.
Chapter 20: Ten Ways to Overcome the Fear Factor.
Index.
Reviews
"…includes some great tips … introduces some advanced topics without overwhelming you… clear…comprehensive." (First Voice, June/July 2007)