Publicity on the Internet: Creating Successful Publicity Campaigns on the Internet and the Commercial Online Services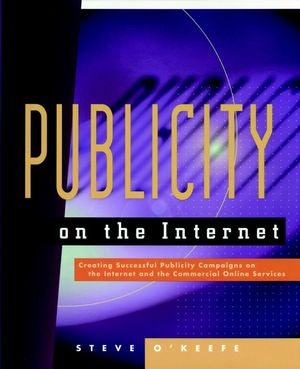 Publicity on the Internet: Creating Successful Publicity Campaigns on the Internet and the Commercial Online Services
ISBN: 978-0-471-16175-2
Nov 1996
416 pages
Product not available for purchase
Description
Do you want more hits at your Web site? Do you want to get attention on the Net without getting flamed? Do you want to reach the online media without making them mad? Then you want Publicity on the Internet, a complete guide to promoting any product, service, person, or event on the Internet and commercial online services.

Increase traffic at your Web site
* Plan and promote online events
* Get media coverage online and off
* Launch a new product or business
* Defend yourself from online attacks

Publicity on the Internet is a detailed, nuts-and-bolts manual for building an online publicity juggernaut. It contains everything you need: step-by-step instructions, checklists, sample documents, links to incredible time-saving resources, and more. The text is highlighted with online marketing horror stories and spectacular successes.

Publicity on the Internet shows you how to get attention for your products and services without getting scorched by online pyromaniacs who hate advertisers. If you want to reach the international marketplace of millions of Internet users and thousands of journalists-but you don't want to get flamed in the process-get Publicity on the Internet and get started today!
The Power of Internet Publicity.

Who's Online?

Basic Tools and Techniques.

The Registration Campaign.

The Linkage Campaign.

E-Mail News Releases.

Announcements.

Document Transfers.

Online Appearances.

Contests and Other Fancy Promotions.

Firefighting and Follow-Up.

Internet Publicity Resources.

Appendix.

Index.