Pugs For Dummies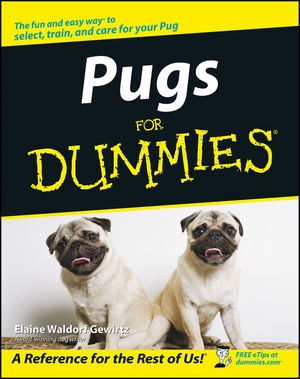 Pugs For Dummies
ISBN: 978-0-764-54076-9 March 2004 296 Pages
Description
Currently ranked as the fifteenth most popular breed in the United States, the Pug is one of the most endearing and loyal toy breed dogs. Their roly-poly shape, big googly eyes, and wrinkles cause many people to fall in love with them at first sight. But just because they look all cute and cuddly isn't a good enough reason to run out and get one. Now, there's a book that will help you decide if owning a Pug is right for you.
Pugs For Dummies is for anyone who is seriously considering owning a Pug—or who already has one and wants to obtain another. This friendly guide tells you exactly what you need to know before choosing a Pug and what you need to do to take good care of him from the very first day he enters your life. You get expert guidance in all things Pug, including:
Feeding
Training
Grooming
Health care
Exercise
Breeding
This fun, informative resource provide s quick access to everything you need to know about the health and well-being of your Pug. You'll discover how to "Pug-proof" your home before his arrival, how to keep him happy and content, and how to maintain household harmony by raising a well-behaved Pug through housetraining, crate-training, and teaching basic commands.  You'll also find:
Ways to exercise and have fun with your Pug
Reliable tips for handling behavior problems
Advice on finding the right veterinarian
Guidance in adopting or rescuing adult Pugs
Information on showing your Pug
The latest on keeping your Pug in tip-top shape for many years to come
Featuring clear explanations, detailed illustrations, and a list of resources for all that "extra stuff," Pugs For Dummies is the ideal guide to enjoying life with this fun-loving breed.
Table of contents
Introduction.
Part I: Adding Pug Paws to Your Life.
Chapter 1: Getting the Lowdown on Pugs.
Chapter 2: Picturing the Pug Package.
Chapter 3: Deciding What Kind of Pug You Want.
Chapter 4: Finding and Selecting the Perfect Pug.
Part II: Living with Puggy.
Chapter 5: Preparing for Your Pug's Arrival.
Chapter 6: Bringing Your Pug Home.
Chapter 7: Providing a Proper Pug Diet.
Chapter 8: Building Up a Pug Sweat: Exercise Advice.
Chapter 9: Grooming Your Pug Pretty.
Part III: Training Your Pug.
Chapter 10: Private Pug, Reporting for Duty: Basic Training and Housetraining.
Chapter 11: Doing-It-Yourself Training and Obedience Training.
Chapter 12: Traveling the Great Outdoors with Your Pug.
Part IV: Raising a Healthy and Active Pug.
Chapter 13: Getting Good Medical Care for Your Pug.
Chapter 14: Dealing with Signs of Sickness.
Chapter 15: Keeping Your Pug Busy.
Chapter 16: There's No Business Like (Dog) Show Business.
Part V: The Part of Tens.
Chapter 17: Ten Do's and Don'ts of Living with a Pug.
Chapter 18: Ten Reasons Not to Breed Your Pug.
Chapter 19: Ten Resources for Pug Lovers.
Index.