Pulitzer: A Life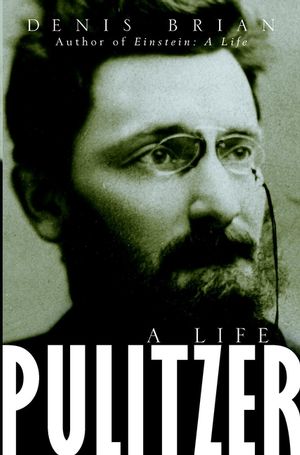 Pulitzer: A Life
ISBN: 978-0-471-21733-6 July 2002 448 Pages
Download Product Flyer
Download Product Flyer
Download Product Flyer is to download PDF in new tab. This is a dummy description. Download Product Flyer is to download PDF in new tab. This is a dummy description. Download Product Flyer is to download PDF in new tab. This is a dummy description. Download Product Flyer is to download PDF in new tab. This is a dummy description.
Description
Acclaim for Denis Brian's Einstein: A Life

"The best account.... Superb insight." --The Times (London)

"Denis Brian's convincing picture...only makes our wonder grow at Einstein's sublime achievements." --The Washington Post

"Does much to reveal the man behind the image.... Brian's intimate work proves that in literature, as in science, taking a careful look can be a rewarding endeavor." --Detroit Free Press

"A fascinating, vastly enjoyable, deeply researched and fair account of Einstein the man." --Physics World

"Exhaustively researched, almost obsessively detailed, written with unobtrusive informality, the book is exemplary as a record of Einstein's personal and professional life." --The Spectator (u.k.)

"An utterly fascinating life of a great scientist, full of new insights and very readable." --Ashley Montagu

"A fascinating read with more interesting material about Einstein as a human being than I have ever seen before.... Once I started it, I couldn't put it down." --Robert Jastrow, astrophysicist and bestselling author
Table of contents
Acknowledgments.

Introduction: Joseph Pulitzer and His "Indegoddampendent" World.

1. The Fighting Immigrant.

2. Upright, Spirited, and Dangerous.

3. Survives Fire and Marries.

4. Buys St. Louis Post-Dispatch.

5. President Garfield Assassinated.

6. Jesse James "Shot Like a Dog".

7. Pulitzer Takes Over the World.

8. Puts a Democrat in the White House.

9. Saves Statue of Liberty.

10. Haymarket Square Massacre.

11. Nellie Bly Goes Crazy.

12. Tries to Save His Sight.

13. "An Instrument of Justice, a Terror to Crime".

14. Nellie Bly Races around the World.

15. Running the World by Remote Control.

16. Pulitzer's "Satanic Journalism".

17. Prevents War between the United States and Britain.

18. Fighting Crime and William Randolph Hearst.

19. War Fever.

20. Americans at War in Cuba.

21. For the Boers, against the British.

22. "Accuracy! Accuracy!! Accuracy!!!"

23. President McKinley Assassinated.

24. "Find a Man Who Gets Drunk and Hire Him".

25. Euphemisms for Abortion.

26. Breaking In Frank Cobb.

27. Unmasking Corrupt Insurance Companies.

28. "I Liked the Way He Swore".

29. Protesting Jingo Agitation.

30. Secret Double Life of Rockefeller's Father.

31. Roosevelt Tries to Send Pulitzer to Prison.

32. "The Big Man of All American Newspapers".

33. Roosevelt Seeks Revenge.

34. Victory!

35. The Last Days.

36. The Aftermath.

Notes.

Bibliography.

Index.
Reviews
A well-told life of the early media tycoon, whose influence-though not his empire-has endured to the present.
Joseph Pulitzer (1847-1911) lived a life that, in the words of biographer Brian (Einstein: A Life, 1996), "often resembled a fable." At 17, he crossed the waters to American, enticed to join the flagging Union Army in exchange for a bounty and citizenship; just before landing in Boston, he jumped ship, swam across the icy harbor, and presented himself directly to the enlistment officers so that he would not have to split the bounty with the agent who recruited him. Charming and well-educated, he easily won his commanders' trust. After the war, penniless and without prospects, he made his way to St. Louis, where he worked his way up from gravedigger and laborer to reporter for a German-language daily. In 1878 he bought the ailing St. Louis Post-Dispatch for $2,500 and started making a name for himself as a publisher. A born muckraker, he magnified minor-league tales to scandalous proportions, insisting that he was serving the public good by revealing the misdeeds of the powerful and influential. (An example: A minister who had just taken a swig of cold medicine took a seat on a streetcar. The young woman next to him, offended by the smell of alcohol, took another seat. End of story-but the Post-Dispatch's headline? "A Shocking Story of a Divine.") The reporters Pulitzer hired, among them Nellie Bly, Stephen Crane, and Irwin S. Cobb, served him well as he went head-to-head with ferociously anti-Semitic rival publisher William Randolph Hearst, played at king-making, warmongering, and politics, and made a huge fortune with which he endowed the prize that bears name, as well as Columbia University's famed School of Journalism.
A solid biography, of interest to student of journalism and American history. (
Kirkus Reviews
, July 15, 2001)
Joseph Pulitzer emigrated to the United States from his native Hungary in 1864 for a bounty offered by Union army recruiters. Discharged in 1865, he made his way to St. Louis, where with little command of English at the start, he got involved in local politics, entered the newspaper business, and eventually gained control of the Post-Dispatch. In 1883, he bought the New York World, then revolutionized American journalism and became wealthy through his sensational approach to the news and his grasp of the entertainment role of newspapers. Highly eccentric, a near-invalid for much of his life, Pulitzer is a marvelous subject of biography. Yet Brian, author of Einstein: A Life and other biographical works, has not done a marvelous job with his material. Readers will find a patchy narrative, which too often treats Pulitzer simply as a character, without insight into his person or perspective on his era. W.A. Swanberg's Putlizer (1967) is a better book, and David Nasaw's biography of Pulitzer's great contemporary and rival, The Chief: The Life of William Randolph Hearst (LJ 6/1/00), a much better book. An optional purchase for journalism collections. —Robert F. Nardini, Chichester, NH
"...Brian's book is a chronicle more than a biography, taking an uncritical approach to the self-conscious myth-making of its sources..." (Sunday Telegraph, 11 November, 2001)
"By introducing Pulitzer to a new century's readers, this entertaining volume will break a silence not even Pulitzer could have tolerated" (Columbia Journalism Review, November/December 2001)
"...Denis Brian...writes fluently an intelligently and draws sensible connections between Pulitzer's life and American political history. The text is richly loaded with detail and anecdote. The illustrations, which include press cuttings, are lavish and useful...a loud and arresting story." (Scotland on Sunday, 18 November, 2001)
"...meticulously researched biography...Brian writes with energy and pace..." (The Observer, 2 December 2001)
"...It is a big story, and it is told here with panache by Denis Brian.... He [Pulitzer] was a momental individual, and fully deserves the big, gripping, richly detailed biography Brian has written..." (Financial Times, 8 December 2001)
"...Brian writes with energy and pace..." (The Guardian Weekly, 13 December 2001)
"...peppered with anecdotes and examples form his newspapers, Pulitzer: A Life shines a light on a fascinating period in American history..." (Manchester Evening News 21 December 2001)
"a dizzyingly detailed but engaging biography...we have Mr. Brian's biography to remind us of the real man." (Wall Street Journal, January 30, 2002)
"The book is well written and reads more like a novel than a biography." (Marxist Review, February 2002)
"...makes a great read..." (The News Line, 20 February 2002)