Pump Wisdom: Problem Solving for Operators and Specialists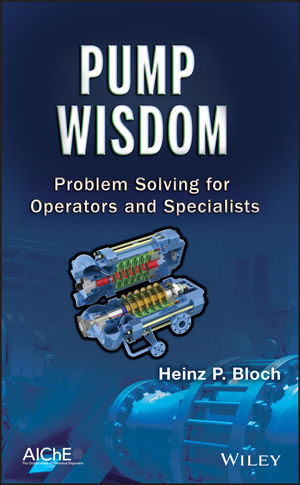 Pump Wisdom: Problem Solving for Operators and Specialists
ISBN: 978-1-118-04123-9 April 2011 224 Pages
Description
An accessible guide to the main reasons pumps fail—and what can be done about it
Workhorses in many different industries, including the oil industry, water industry, chemical industry, food industry, and pharmaceutical industry to name a few, pumps are a vital contributor to maintaining and increasing the flow of production. In fact, the pump industry itself is a multi-billion dollar global business.
Taking the unique approach of addressing both pump operators and pump designers, Pump Wisdom explains the causes of failure in centrifugal pump function—whether it's pump selection, overlooked installation criteria, or the accumulation of small deviations—and maps out remedies with well defined methods that target specific issues, rather than focusing on technical generalities and theory. Clearly written and concise, Pump Wisdom relies on proven tactics for reducing pump vulnerabilities and correcting imbalances between hydraulic assembly and mechanical assembly. In addition, it supplies sound tips for detecting and rectifying risky shortcuts taken by pump designers and manufacturers. Pump Wisdom also:
Provides a concise explanation of how pumps function

Details the specifications to be considered when purchasing a pump

Provides tips on the installation of centrifugal pumps in process plants

Written in concise language that avoids excessive mathematical treatment

Explains pump hydraulics in easy to understand terms

Emphasizes the mechanical aspects of pumps with coverage on bearings, seals, impeller trimming, lubricant application, lubricant types, and more
Pump Wisdom sheds light on the techniques for stabilizing pump performance and maximizing pump efficiency. Its concise format allows readers to strike directly at the heart of the problem—and helps them devise strategies to prevent costly failures before they occur.
Buy Both and Save 25%!
Original Price:$233.95
Purchased together:$175.46
save $58.49
Cannot be combined with any other offers.
1 Principles of Process Pumps.
Pump performance: Head and Flow.
Operation at zero flow.
Impellers and rotors.
The meaning of specific speed.
Process pump types.
Process pump mechanical response to flow changes.
Recirculation and cavitation.
The importance of suction specific speed.
What we have learned.
2 Pump Types and Selection.
Why insist on better pumps.
ANSI and ISO vs. API pumps.
What we have learned.
3 Foundations and Base Plates.
Securing pumps in place—with one exception.
Why not to install pump sets in the as-shipped condition.
Conventional vs. pre-filled base plate installations.
Epoxy pre-filled base plates.
How to proceed if there is no access to specialist firms.
What we have learned.
4 Piping and Gaskets.
Pipe installation and support.
Sliding supports and installation sequence deserve special attention.
Monitoring pipe stress while bolting up.
Flange leakage.
What to do prior to gasket insertion.
Spiral wound and kammprofile gaskets.
Pipe, hydraulic tubing or flexible connections.
Gusseting.
Concentric vs. eccentric reducers.
Vibration problems in piping.
What we have learned.
5 Rolling Element Bearings.
Bearing selection overview and windage as a design problem.
Radial vs. axial (thrust) bearings.
Oil levels, multiple bearings, and different bearing orientations.
Upgrading and retrofit opportunities.
Bearing cages.
Bearing preload and clearance effects.
Bearing dimensions and mounting tolerances.
What we have learned.
6 Lubricant Application and Cooling Considerations.
Lubricant level and oil application.
Issues with oil rings.
Pressure and temperature balance in bearing housings.
Cooling not needed on pumps with rolling element bearings.
Oil delivery by constant level lubricators.
Black oil.
Lube application as oil mist (oil fog).
Desiccant breathers and expansion chambers.
What we have learned.
7 Lubricant Types and Key Properties.
Lubricant viscosities.
When and why high film-strength synthetic lubricants are used.
Lubricants for oil mist systems.
What we have learned.
8 Bearing Housing Protection and Cost-Justification.
Non-contacting bearing protector seals.
Contacting bearing protector seals.
How venting and housing pressurization affect bearing protector seal performance.
Cost justification overview.
Advanced bearing housing (bearing protector) seal summary.
What we have learned.
9 Mechanical Sealing Options for Long Life.
Still using packing?
General overview of mechanical seals.
All flush plans have advantages and disadvantages.
Always obtain the full picture.
Seal chamber pumping ring (circulating device) technologies.
Lessons to apply to many services.
What we have learned.
10 Pump Operation.
Starting centrifugal pumps.
Surveillance of pump operation.
Centrifugal pump shutdown.
What we have learned.
11 Impeller Modifications and Pump Maintenance.
Maintenance essentials.
Superior maintenance requires upgrading.
Impeller upgrading with inducers.
Distance from impeller tips to stationary internal casing components.
Impeller trimmings.
Impeller wear rings.
Vane tip overfiling and underfiling.
What we have learned.
12 Lubrication Storage and Management.
How bad is water contamination?
Avoid solids contamination.
Avoid questionable storage and transfer practices.
Periodic audits.
What we have learned.
13 Pump Condition Monitoring.
Vibration and its effect on bearing life.
Monitoring methods differ.
Vibration acceptance limits.
Causes of excessive vibration.
Rotor balancing.
What we have learned.
14 Drivers, Couplings, and Alignment.
Driver selection.
Coupling selection and installation.
Installation and removal.
Alignment and quality criteria.
Consequences of misalignment.
Thermal rise and predefinition of growth.
What we have learned.
15 Fits, Dimensions, and Related Misunderstandings.
Low incremental cost of better pumps.
Pump pedestals and bearing housings should not be water-cooled.
Summary of bearing-related issues.
Constant level lubricators.
Bearing housing protector seals("bearing isolators").
Motor lubrication summary.
Mechanical seal issues.
Hydraulic issues.
Impeller hydraulics.
Mechanical improvement or upgrade options.
Process pump repair dimensions.
What we have learned.
16 Failure Statistics and Successful Failure Analysis.
Mean time between failures and repair cost calculations.
Performing your own projected MTBF calculations.
Older pumps vs. newer pumps.
Reliability reviews start before purchase.
Structured failure analysis strategies solve problems.
The "FRETT" approach to eradicating repeat failures of pumps.
What we have learned.
Index.
""Seldom has so much practical advice (well-deserving the term "wisdom") been so readily available in easy-to-read, well-illustrated form.  If you deal with pumps, don't miss it."  (Electrical Apparatus, 1 February 2013)