Pura vida: Beginning Spanish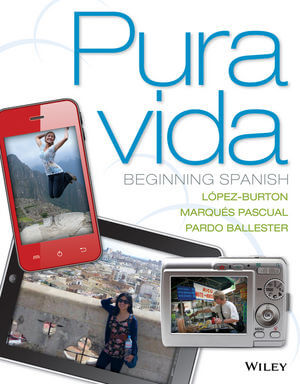 Pura vida: Beginning Spanish
ISBN: 978-1-118-51476-4 May 2016 560 Pages
Download Product Flyer
Download Product Flyer
Download Product Flyer is to download PDF in new tab. This is a dummy description. Download Product Flyer is to download PDF in new tab. This is a dummy description. Download Product Flyer is to download PDF in new tab. This is a dummy description. Download Product Flyer is to download PDF in new tab. This is a dummy description.
Description
Culture, culture, culture! In Pura vida: Beginning Spanish, Spanish is more than vocabulary and grammar, and Spanish-speaking cultures are more than products and practices. Pura vida is the discovery of a Spanish-speaking world through the experiences of real people that students can relate to, who share anecdotes and reflections on their experiences. Students make deeper, more meaningful connections between language and culture than in other programs and acquire Spanish with an unparalleled sense of personal engagement. Students don't only learn Spanish for real life, but also from real life, discovering that there is not just one homogeneous Hispanic culture, but rather that each Spanish-speaking country has its own rich, unique culture and that the people who live in these countries speak one common language with different accents, characteristics, and idiosyncrasies. This first-edition program offers truly seamless integration of cultural notions and language instruction, and features 100% contextualized and personalized activities.
Table of contents
Capítulo Preliminar: !A conocerse!
Capítulo 1: La sala de clases
Capítulo 2: Día a día
Capítulo 3: La vida doméstica
Capítulo 4: El trabajo y la ciudad
Capítulo 5: La vida social
Capítulo 6: Un viaje al pasado
Capítulo 7: Los restaurantes y las comidas
Capítulo 8: El mundo del entretenimiento
Capítulo 9: Nuestro planeta
Capítulo 10: La salud y el bienestar
Capítulo 11: Un mundo global
Capítulo 12: Los hispanos en Estados Unidos
New To This Edition
WileyPLUS Learning Space with ORION Adaptive Learning provides a research-based online environment for effective teaching and learning. Students complete automatically graded homework, get feedback on their answers, and access learning materials like the e-text, videos, self-tests, collaborative tools, and more. Instructors have the flexibility to tailor the course to their own teaching style and have access to actionable reports that give deep insights into student performance. ORION adapts to individual students' needs with diagnostic and adaptive questions, and provides a personal learning path drawing on the text and a variety of online resources. The Chapter 0 Fundamental Grammar Concepts module uses English to provide a foundation in the basic grammar concepts students need but are so often lacking when they begin college foreign language study.
Features
Contextualized, personalized, and task-based practice: In Pura vida, activities are either rooted in the context of the real-life stories of Americans visiting Spanish- speaking countries that tap into students' own lives and perspectives, or written to have students do something with the language from their own personal perspective. Practice for the sake of practice is not part of the Pura vida experience.
Authenticity: Building on the real-life foundation of Pura vida, Una perspectiva and Otra perspectiva sections engage students in dialog with real people sharing their thoughts and experiences, and reading selections are taken from a variety of authentic sources, cover a wide range of genres and incorporate the vocabulary, grammar structures and cultural focus of each chapter.
Strategic skill development: Pura vida offers strategies and multiple opportunities for developing all four language skills, and for practice using those skills in all communicative modes.
Teacher-friendly program: While taking a student-centered approach, Pura vida is written by three Spanish teachers who are in the classroom every day, and is thus practical, useful and very straightforward for experienced and novice instructors alike. It brims with cultural information, teaching tips, and step-by-step procedures for managing communicative tasks in the classroom.
The En vivo Option: Live Language Coaching
With the
En vivo
option, regularly scheduled, live online coaching sessions reinforce language skills and further explore cultural notions. A special set of activities provides a framework for conversation, and a native-speaking language coach encourages students practice the Spanish they're learning in
Pura vida
in weekly small-group sessions. Aside from the opportunity to practice, our research shows that students using
En vivo
display a sharp decline in anxiety about speaking Spanish in the regular classroom.