Purchasing: Selection and Procurement for the Hospitality Industry, 7th Edition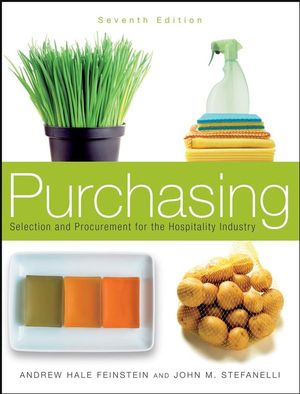 Purchasing: Selection and Procurement for the Hospitality Industry, 7th Edition
ISBN: 978-0-470-13958-5 February 2008 752 Pages
Description
The market-leading textbook, Purchasing, has defined the course since its first edition. Purchasing: Selection and Procurement for the Hospitality Industry emphasizes the managerial principles of purchasing functions. Through six editions, Feinstein is considered the ultimate resource for professionals in foodservice and lodging operations who conduct training courses on purchasing goods and hospitality services.
Table of contents
Preface.
1. The Concept of Selection and Procurement.
2. Technology Applications in Purchasing.
3. Distribution Systems.
4. Forces Affecting the Distribution Systems.
5. An Overview of the Purchasing Function.
6. The Organization and Administration of Purchasing.
7. The Buyer's Relations with Other Company Personnel.
8. the Purchase Specification: An Overall View.
9. The Optimal Amount.
10. The Optimal Price.
11. The Optimal Payment Policy.
12. The Optimal Supplier.
13. Typical Ordering Procedures.
14. Typical Receiving Procedures.
15. Typical Storage Management Procedures.
16. Security in the Purchasing Function.
17. Fresh Produce.
18. Processed Produce and Other Grocery Items.
19. Dairy Products.
20. Eggs.
21. Poultry.
22. Fish.
23. Meat.
24. beverages.
25. Nonfood Expense Items.
26. Services.
27. Furniture, Fixtures, and Equipment.
Glossary.
Index.
New To This Edition
New full-color interior design and full-color photographs

Careful attention to the rapid evolvement of the hospitality purchasing field, particularly in the area of technology

Updated and revised questions and problems sections

Includes discussions and interviews with experts in the field who comment on how the purchasing function affects their business

New Industry Insights - several chapters include insider information on current and future trends in the field, such as perspectives on the future of purchasing and novel approaches to procurement
Reviews
"...it goes through the topics succinctly and is well written.  The chapters cover numerous subjects..." (
Supply Management,
Thursday 17th January 2008)
"Someone new to hospitality...would gain a useful insight into procurement principles" (Supply Management, 17th January 2008)
Features
Includes discussion of the purchasing activity and product information from a management perspective

Market leading textbook that has defined the course

Product chapters include updated information on the latest trends

Pedagogical features in each chapter, such as Key Words and Concepts, References, Questions and Problems, as well as Experiential Exercises

In-depth attention to ordering procedures, distribution systems, supplier channels, price and payment, storage and security, and specification for food, furniture, fixtures, and equipment