Purchasing for Chefs: A Concise Guide, 2nd Edition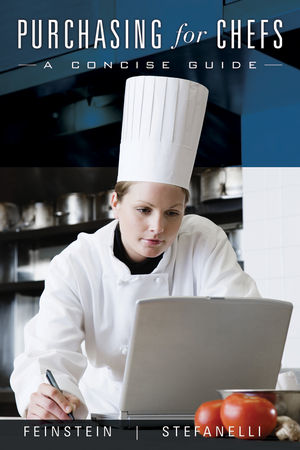 Purchasing for Chefs: A Concise Guide, 2nd Edition
ISBN: 978-0-470-59800-9 June 2010 256 Pages
Description
Now in the new Second Edition, Purchasing for Chefs is a comprehensive yet concise treatment of the purchasing principles that teaches students and chefs the basic principles of how to purchase goods and services in order to run their businesses effectively.  It contains sections on "Purchasing Technology" that explains purchasing lingo beyond the scope of the book as well as illustrating different tools used in purchasing.  This book is written in a unique conversational style that makes purchasing an accessible subject.
Preface.
1 Menu Planning.
What Kind of Stuff Should I Sell?
2 Product Quality.
What Kind of Stuff Should I Buy?
3 Food Vendors.
Who Should I Buy This Stuff From?
4 Purchase Orders.
How Much Stuff Should I Buy?
5 Purchase Prices.
How Do I Get the Best Deal?
6 Ordering Process.
How Do I Actually Buy This Stuff?
7 Inventory Control.
How Do I Keep Track of All This Stuff?
Resources.
Purchasing Terminology.
Index.
This title has been revised and updated to reflect current purchasing standards in the culinary world

Employee fraud stories to help chefs identify ways to protect their inventory

Two new features have been added to this edition: Professional Advice which provides useful real-world information from culinarians and purchasers in the industry with useful tips on how to best maximize your purchasing dollar, and Practice Problems which presents exercises for the reader to demonstrate understanding of the topics covered in the chapter.

Discussion questions have been expanded
A complete resource for dramatically improving purchasing practices at any establishment where the chef is the heart of the house.

Offers a step-by-step approach to purchasing in a conversational style that not only makes the subject accessible but also makes complex topics easy to understand.

"Apply What You've Learned" questions that present realistic situations

Web site addresses in each chapter for additional research.