Purinergic Signalling in Neuron-Glia Interactions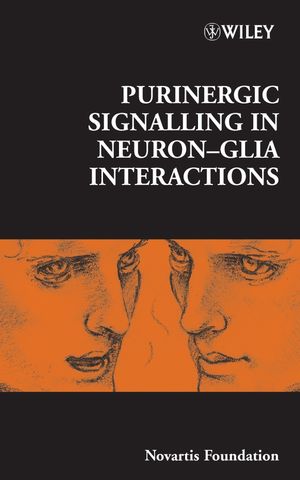 Purinergic Signalling in Neuron-Glia Interactions
ISBN: 978-0-470-03223-7 May 2006 302 Pages
Download Product Flyer
Download Product Flyer
Download Product Flyer is to download PDF in new tab. This is a dummy description. Download Product Flyer is to download PDF in new tab. This is a dummy description. Download Product Flyer is to download PDF in new tab. This is a dummy description. Download Product Flyer is to download PDF in new tab. This is a dummy description.
Description
ATP, the intracellular energy source, is also an extremely important cell–cell signalling molecule for a wide variety of cells across evolutionarily diverse organisms. The extracellular biochemistry of ATP and its derivatives is complex, and the multiple membrane receptors that it activates are linked to many intracellular signalling systems.
Purinergic signalling affects a diverse range of cellular phenomena, including ion channel function, cytoskeletal dynamics, gene expression, secretion, cell proliferation, differentiation and cell death.  Recently, this class of signalling molecules and receptors has been found to mediate communication between neurons and non-neuronal cells (glia) in the central and peripheral nervous systems. Glia are critical for normal brain function, development and response to injury. Neural impulse activity is detected by glia and purinergic signalling is emerging as a major means of integrating functional activity between neurons, glia and vascular cells in the nervous system. These interactions mediate effects of neural activity on the development of the nervous system and in association with injury, neurodegeneration, myelination and cancer.
Bringing together contributions from experts in diverse fields, including glial biologists, neurobiologists and specialists in purinergic receptor structure and pharmacology, this book considers how extracellular ATP acts to integrate communication between different types of glia, and between neurons and glia.  Beginning with an overview of glia and purinergic signalling, it contains detailed coverage of purine release, receptors and reagents, purinergic signalling in the neural control of glial development, glial involvement in information processing, and discussion of the interactions between neurons and microglia.
Table of contents
Symposium on Purinergic signalling in neuron–glia interactions, held at the Novartis
Foundation, London, 7–9 June 2005.
Editors: Derek J. Chadwick (Organizer) and Jamie Goode.
This symposium was based on a proposal made by R. Douglas Fields.
R. Douglas Fields Chair's introduction.
Kristjan R. Jessen A brief look at glial cells.
Bernard Zalc The acquisition of myelin: a success story.
Discussion.
Geoffrey Burnstock Purinergic signalling—an overview.
Discussion.
General discussion I.
Kenneth A. Jacobson, Stefano Costanzi, Bhalchandra V. Joshi, Pedro Besada, Dae Hong Shin, Hyojin Ko, Andrei Ivanov and Liaman Mamedova Agonists and antagonists for P2 receptors.
Discussion.
Eduardo Lazarowski Regulated release of nucleotides and UDP sugars from astrocytoma cells.
Discussion.
Maria P. Abbracchio and Claudia Verderio Pathophysiological roles of P2 receptors in glial cells.
Discussion.
General discussion II.
Herbert Zimmermann ectonucleotidases in the nervous system.
Discussion.
Joseph T. Neary, Yuan Kang, You-fang Shi, Minh D. Tran and Ina B. Wanner P2 receptor signalling, proliferation of astrocytes, and expression of molecules involved in cell–cell interactions.
Discussion.
R. Douglas Fields nerve impulses regulate myelination through purinergic signalling.
Discussion.
Beth Stevens Cross-talk between growth factor and purinergic signalling regulates Schwann cell proliferation.
Discussion.
Freddy Jeanneteau and Moses V. Chao Promoting neurotrophic effects by GPCR ligands.
Discussion.
Eric A. Newman A purinergic dialogue between glia and neurons in the retina.
Discussion.
Tommaso Fellin, Jai-Yoon Sul, Marcello D'Ascenzo, Hajime Takano, Olivier Pascual and Philip G. Haydon Bidirectional astrocyte–neuron communication: the many roles of glutamate and ATP.
Discussion.
Keith J. Todd and Richard Robitaille neuron–glia interactions at the neuromuscular synapse.
Discussion.
General discussion III.
Stéphane H.R. Oliet, Aude Panatier and Richard Piet Functional neuronal–glial anatomical remodelling in the hypothalamus.
Discussion.
Francesco Di Virgilio Purinergic signalling between axons and microglia.
Discussion.
Kazuhide Inoue ATP receptors of microglia involved in pain.
Discussion.
Final discussion.
Index of contributors.
Subject index.
Reviews
"…a worthwhile compilation of the symposium…" (Doody's Health Services)