Put Your Debt on a Diet: A Step-by-Step Guide to Financial Fitness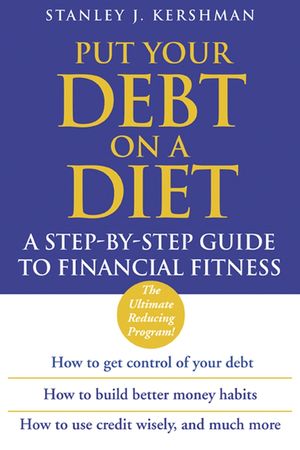 Put Your Debt on a Diet: A Step-by-Step Guide to Financial Fitness
ISBN: 978-0-470-73968-6
Jan 2010
224 pages
Product not available for purchase
Description
You could be just two paycheques away from bankruptcy!
More people are up to their eyeballs in debt than ever before. Canadian families currently owe over $450 billion. That's almost $15,000 in debt for every man, woman, and child in the country. It's mortgages, vehicles, credit cards, student loans, and more … and it's dangerous. The number of consumer bankruptcies has been rising dramatically every year, and Canadians from all walks of life are in dire financial straits — from the working poor to the highest-income professionals. No one is immune from crushing debt, and it will just get worse if we don't take control now.
Effectively managing your debt is one of the first—and most important — steps toward your financial health. Put Your Debt on a Diet takes the mystery and fear out of the process of overcoming even the most severe financial problems.
Shows you how to effectively reduce and eliminate debt using realistic and down-to-earth techniques.
Provides a clear process and achievable milestones that you and your family can use to improve money management skills and resolve debt problems.
Includes comprehensive coverage on: assessing your debts, building better money habits, setting financial goals, budgeting strategies, credit counselling, debt reduction strategies, using credit cards wisely, how to shop for credit, and much more.
Features practical examples, tips, frequently-asked-questions, worksheets, and checklists to help you reduce your debt load.
Whether you're in financial crisis, or just living too close to the edge, Put Your Debt on a Diet is the ultimate reducing plan to help you trim your debt load and put you on the road to good financial health.
Acknowledgements.
Request to You, the Reader.
Introduction.
Chapter One: Weighing In: Assessing Your Financial Picture.
Facing the Scale.
Examining Your Money Attitudes.
Setting Your Goals.
Chapter Two: Taking Control: Changing How You Manage Your Finances.
Rethinking Your Debt Tolerance.
Take Advantage of Available Services.
Independent Debt Management.
Dealing with Addictions.
Chapter Three: Your Budget: Five Steps to a More Beautiful Bottom Line.
Step One.
Step Two.
Step Three.
Step Four.
Step Five.
Dietary First Aid.
Putting Your Budget to Work.
A Final Word About Budgets.
Chapter Four: Taming the Scale: Steps to Reducing Your Debt.
Credit Report Basics.
How to Check Your Report.
The Importance of Review.
Fixing Mistakes.
Credit Scoring.
Dealing with Collection Agencies: Know Your Rights.
Negotiating with a Collection Agent.
Choosing a Diet Plan: Debt-Reduction Strategies.
Consolidation Loans.
Lines of Credit.
Assets: Finding Your Hidden Dollars.
Rebuilding (or Building) a Credit History.
Loans.
Secured Credit Cards.
Chapter Five: Legally Speaking: Serious Options for Serious Debt Disorders.
Orderly Payment of Debts.
Consumer Proposals.
Personal Bankruptcy.
The Bankruptcy Process.
Income Taxes and Bankruptcy.
Your Duties as a Bankrupt.
Discharge from Bankruptcy.
Your Future After Bankruptcy.
Chapter Six: Staying on Track: Purchasing and Spending Strategies.
Emergency Purchases.
Major Purchases.
Furniture/Appliances.
Purchasing a Vehicle.
New or Used.
Financing.
Leasing.
Buying a Home.
Financing.
Planning a Vacation.
Holiday Shopping.
Credit Tools.
Mortgages, Loans, and Credit Lines.
Student Loans.
Credit Cards.
Consumer Be Wary!
Payday Loans/Cheque Cashing Services.
White-Label or No-Name ATMs.
Internet Shopping: The New Frontier in E-commerce.
Online Auctions.
Scam Busting.
High-Pressure Sales Tactics.
Chapter Seven: Coping with the Unforeseen: How to Handle Dietary Setbacks.
Job Loss.
Separation and Divorce.
Incapacitation.
Death and Intestacy.
Debts Owed to You.
A Final Word.
Chapter Eight: Taxes: Avoiding Income Indigestion.
Filing Your Return.
Penalties and Interest.
Late Filing Need-to-Knows.
Notice of Assessment.
Tax-Saving Strategies.
Deductions.
Tax Credits.
Excluded Benefits.
Tax Planning for the Investor.
Tips for the Self-Employed.
Tips for Spouses.
Beyond Paying: Other Tax Responsibilities.
Accountability.
Changes to Already-Filed Returns.
NETFILE and Other CCRA Services.
Phone Filing.
Audits.
Chapter Nine: Balancing Your Kids: Sharing Your Financial Health.
Allowances.
Setting the Rules.
How Much?
How Often?
When?
Increases.
Dealing with a Child's Financial Disasters.
Big-Ticket Items.
Payment for Odd Jobs.
Who Controls the Spending?
Savings Programs and Bank Accounts.
Setting up a Savings Program.
When Should Your Child Open a Bank Account?
Tweens and Teens.
Peer Pressure.
Growing Independence.
Increased Responsibility.
Premature Affluence.
Credit Cards for Tweens.
Chapter Ten: Taking Care of the Future: Planning for Financial Success.
Foresight: Guarding Against Dietary Setbacks.
Estate Planning.
Drawing up a Will.
Powers of Attorney.
Life Insurance.
Disability Insurance.
Household Insurance.
Planning: Looking Ahead to a Healthy Financial Future.
Saving for Education.
Registered Education Savings Plans (RESPs).
Family Trusts.
Life Insurance.
Retiring Your Mortgage.
Saving for Retirement.
Registered Retirement Savings Plans (RRSPs).
Registered Retirement Income Funds (RRIFs).
Annuities.
Meeting the Shortfall.
Reverse Mortgages.
Other Alternatives.
A Word About Investing.
Conclusion.
Appendix A: Monthly Income and Expense Statement.
Appendix B: Calculating Your Family's Net Worth.
Appendix C: Credit Counselling Agencies in Canada.
Appendix D: Provincial Consumer Protection Agencies.
Appendix E: Summary of Intestacy Laws in Canada.
Glossary.
Frequently Asked Questions.
Bibliography.
Index.
About the Author.