Put Your Science to Work: The Take-Charge Career Guide for Scientists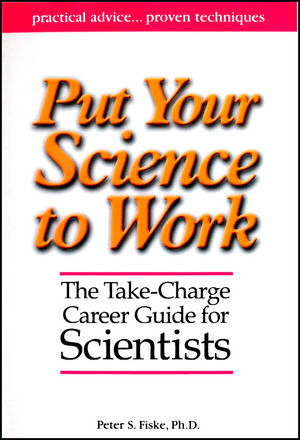 Put Your Science to Work: The Take-Charge Career Guide for Scientists
ISBN: 978-1-118-76441-1 June 2013 American Geophysical Union 179 Pages
Description
Published by the American Geophysical Union as part of the Special Publications Series.
Whether you are a science undergraduate or graduate student, post-doc or senior scientist, you need practical career development advice. Put Your Science to Work: The Take-Charge Career Guide for Scientists can help you explore all your options and develop dynamite strategies for landing the job of your dreams. Completely revised and updated from the best-selling To Boldly Go: A Practical Career Guide for Scientists, this second edition offers expert help from networking to negotiating a job offer. This is the book you need to start moving your career in the right direction.
Table of contents
Foreword v
Preface vii
Acknowledgments ix
Beyond the Event Horizon 1
Science Employment Trends in the New Millennium
Now the Good News 11
The World of Opportunity Open to Scientists
The Science of Change 23
The Career Planning Process 31
How Do I Start?
Self-Assessment 37
Making Your Neuroses Work for You!
Beyond the Endless Frontier 47
Exploring the World of Work
Exploring a Career That You Know 59
Research Science
Focusing on Specific Opportunities 71
CVs and Resumes 83
(There IS a Difference)
Six Resume Case Studies 105
Cover Letters 141
Going from Huh? to Wow!
The Interview and Beyond 151
Perceptions and Realities 167
References and Resources 171
Index 175