Putting Patients First: Best Practices in Patient-Centered Care, 2nd Edition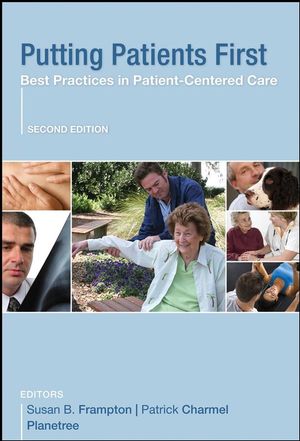 Putting Patients First: Best Practices in Patient-Centered Care, 2nd Edition
ISBN: 978-0-470-45053-6
Jan 2009, Jossey-Bass
368 pages
Description
The second edition of Putting Patients First showcases what Planetree facilities and the Planetree organization have learned about the commitments, conditions, practices, and policies that are needed to do more than give lip service to being--patient-centered.--It should be read by every student, nurse, physician, administrator, trustee, policy maker, and lay person who is committed to creating healing environments, holding facilities accountable for their rhetoric, and truly reforming health care.
Acknowledgments.
The Editors.
The Contributors.
Prologue (Angelica Thieriot)
INTRODUCTION: PATIENT-CENTERED CARE MOVES INTO THE MAINSTREAM (Susan B. Frampton).
PART ONE: ESSENTIAL ELEMENTS OF PATIENT-CENTERED CARE.
CHAPTER ONE: HUMAN INTERACTIONS AND RELATIONSHIP-CENTERED CARING (Jean Watson and Susan B. Frampton).
CHAPTER TWO: ACCESS TO INFORMATION: INFORMING AND EMPOWERING DIVERSE POPULATIONS (Candace Ford Gray and Michele A. Spatz).
CHAPTER THREE: HEALING PARTNERSHIPS: THE IMPORTANCE OF INVOLVING PATIENTS, FAMILIES, AND VOLUNTEERS (Alexandra Harrison, Gail MacKean, and Margaret Cullivan).
CHAPTER FOUR: NUTRITION: THE NURTURING AND HEALING ASPECTS OF FOOD (David L. Katz and F. Nicholas Jacobs).
CHAPTER FIVE: SPIRITUAL AND CULTURAL DIVERSITY: INNER RESOURCES FOR HEALING (Steven L. Jeffers and Dennis Kenny).
CHAPTER SIX: INTEGRATING COMPLEMENTARY AND ALTERNATIVE PRACTICES INTO CONVENTIONAL CARE (David L. Katz and Ather Ali).
CHAPTER SEVEN: EFFECTS OF VIEWING ART ON HEALTH OUTCOMES (Roger S. Ulrich).
CHAPTER EIGHT: HEALING ENVIRONMENTS: CREATING A NURTURING AND HEALTHY ENVIRONMENT (Kimberly Nelson Montague and Robert F. Sharrow).
CHAPTER NINE: HEALTHY COMMUNITIES: EXPANDING THE BOUNDARIES OF HEALTH CARE (Randall L. Carter and Catherine Whalen).
PART TWO: CURRENT TRENDS IN PATIENT-CENTERED CARE.
CHAPTER TEN: BUILDING THE BUSINESS CASE FOR PATIENT-CENTERED CARE (Patrick A. Charmel).
CHAPTER ELEVEN: THE PHYSICIAN-PATIENT RELATIONSHIP IN THE PATIENT-CENTERED CARE MODEL (H. Lee Kanter and Steven F. Horowitz).
CHAPTER TWELVE: ADAPTING PATIENT-CENTERED CARE TO DIVERSE HEALTH CARE SETTINGS (Heidi Gil, Wendy W. Peche, and Philip J. Wilner).
CHAPTER THIRTEEN: INTEGRATING QUALITY AND SAFETY WITH PATIENT-CENTERED CARE (Carrie Brady and James B. Conway).
CHAPTER FOURTEEN: PATIENT-CENTERED CARE AS PUBLIC POLICY: THE ROLE OF GOVERNMENT, PAYERS, AND THE GENERAL PUBLIC (Carolyn M. Clancy, Janet M. Corrigan, and Dwight N. McNeill).
CHAPTER FIFTEEN: BREAKING DOWN THE BARRIERS TO PATIENT-CENTERED CARE (Carrie Brady and Susan B. Frampton).
Epilogue (Linda K. Kenney).
Name Index.
Subject Index.