Puzzle Films: Complex Storytelling in Contemporary Cinema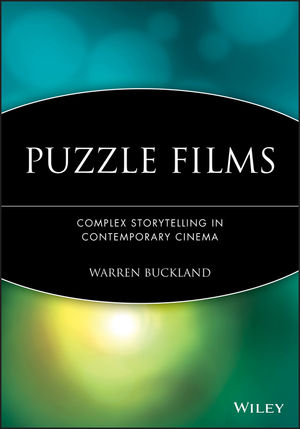 Puzzle Films: Complex Storytelling in Contemporary Cinema
ISBN: 978-1-405-16862-5
Jan 2009, Wiley-Blackwell
256 pages
Description
Drawing upon the expertise of film scholars from around the world, Puzzle Films investigates a number of films that sport complex storytelling--from Memento, Old Boy, and Run Lola Run, to the Infernal Affairs trilogy and In the Mood for Love.
Unites American 'independent' cinema, the European and International Art film, and certain modes of avant-garde filmmaking on the basis of their shared storytelling complexity
Draws upon the expertise of film scholars from North America, Britain, China, Poland, Holland, Italy, Greece, New Zealand, and Australia
Introduction: Puzzle Plots: Warren Buckland.
1. The Mind-Game Film: Thomas Elsaesser.
2. Making Sense of Lost Highway: Warren Buckland.
3. "Twist Blindness:" The Role of Primacy, Priming, Schemas, and Reconstructive Memory in a First-Time Viewing of The Sixth Sense: Daniel Barratt.
4. Narrative Comprehension Made Difficult: Film Form and Mnemonic Devices in Memento: Stefano Ghislotti.
5. "Frustrated Time" Narration: The Screenplays of Charlie Kaufman: Chris Dzialo.
6. Backbeat and Overlap: Time, Place, and Character Subjectivity in Run Lola Run: Michael Wedel.
7. Infernal Affairs and the Ethics of Complex Narrative: Allan Cameron and Sean Cubitt.
8. Happy Together? Generic Hybridity in 2046 and In the Mood for Love: Gary Bettinson.
9. Revitalizing the Thriller Genre: Lou Ye's Suzhou River and Purple Butterfly: Yunda Eddie Feng.
10. The Pragmatic Poetics of Hong Sangsoo's The Day a Pig Fell into a Well: Marshall Deutalbaum.
11. Looking for Access in Narrative Complexity. The New and the Old in Oldboy: Eleftheria Thanouli
A timely and insightful guide to some of the more complex and labyrinthine currents in recent cinema, drawing on an admirable range of examples from around the globe. Geoff King, Professor of Film and TV Studies, Brunel University
Unites American 'independent' cinema, the European and International Art film, and certain modes of avant-garde filmmaking on the basis of their shared storytelling complexity
Considers a range of films from Memento, Old Boy, and Run Lola Run, to the Infernal Affairs trilogy and In the Mood for Love
Draws upon the expertise of film scholars from North America, Britain, China, Poland, Holland, Italy, Greece, New Zealand, and Australia