Qualitative Inquiry for Equity in Higher Education: Methodological Innovations, Implications, and Interventions: AEHE, Volume 37, Number 6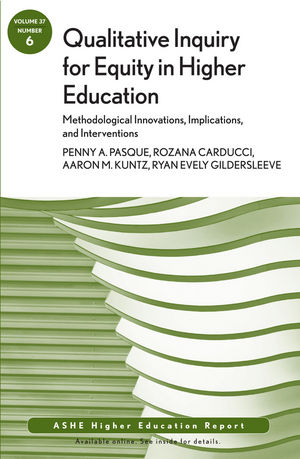 Qualitative Inquiry for Equity in Higher Education: Methodological Innovations, Implications, and Interventions: AEHE, Volume 37, Number 6
ISBN: 978-1-118-38531-9
Mar 2012, Jossey-Bass
144 pages
Description
Join the dialogue on the future of qualitative inquiry for equity in higher education.
Beginning with the premise that equity is of paramount concern in the study of higher education, this text explores the promise and pitfalls of qualitative inquiry with respect to addressing issues of in/equity and fostering social change at micro, meso, and macro levels. Building upon contemporary qualitative higher education scholarship, the authors advance a critique of the reductive and generic conceptions of qualitative research that dominate the field and call upon scholars to examine the transformative potential embedded within critical qualitative inquiry.
In addition to exploring the opportunities and tensions associated with engaging in critical qualitative inquiry, this monograph issues a call to action through intervention, describing strategies for challenging and resisting oppressive research norms that undermine the equity aims of higher education research.
This is Volume 37 Issue 6 of the Jossey-Bass publication ASHE Higher Education Report. Each monograph in the series is the definitive analysis of a tough higher education problem, based on thorough research of pertinent literature and institutional experiences. Topics are identified by a national survey. Noted practitioners and scholars are then commissioned to write the reports, with experts providing critical reviews of each manuscript before publication.
Executive Summary vii
Foreword xi
Acknowledgments xv
Qualitative Inquiry for Equity in Higher Education 1
On Equity 6
On Dangers 11
Responding to Dangers 12
Outline of the Monograph 13
Challenge to the Reader 15
Confronting Qualitative Inquiry in Higher Education 17
Brief Notes on Qualitative Research in Higher Education Scholarship 19
Beyond Method: Matters of Ontology, Epistemology, Axiology, and Methodology 21
Paradigms and Worldviews 24
The Promise and Hope of Critical Qualitative Inquiry 27
Innovation as Research Revolutions 29
Concluding Thoughts 45
Critical Concerns for Qualitative Inquiry in Higher Education 47
Critical Qualitative Higher Education Research in the Era of Methodological Conservatism 49
What Is at Stake in the Era of Methodological Conservatism? 61
Opportunities for Resisting Methodological Conservatism: A Call to Action 75
Reflexivity as Intervention 76
Institutional and Organizational Intervention 79
Intervention Through the Socialization of New Educational Researchers 81
Intervention Through Working and Speaking with Multiple Educational Research Constituencies 85
Conclusion 88
Notes 91
References 93
Name Index 109
Subject Index 114
About the Authors 121