Qualitative Research Methods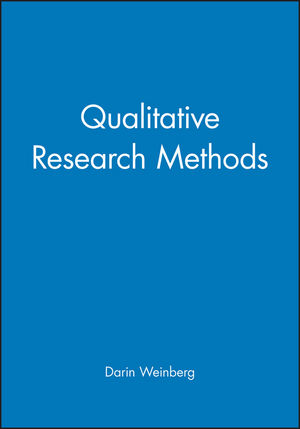 Qualitative Research Methods
ISBN: 978-0-631-21761-9
Oct 2001, Wiley-Blackwell
354 pages
Description
Qualitative Research Methods is an indispensable, definitive collection of readings for students undertaking any kind of social science inquiry. These readings represent the finest classic and contemporary scholarship in the field.
Acknowledgments.
Qualitative Research Methods: An Overview (Darin Weinberg).
PART I. THE LEGACY OF QUALITATIVE RESEARCH METHODS.
Introduction to Part I.
1. The Stranger (Georg Simmel).
2. Paradigmatic Traditions in the History of Anthropology (George W. Stocking, Jr.).
3. Everett C. Hughs and the Development of Fieldwork in Sociology (Jean-Michel Chapoulie).
PART II. QUALITATIVE INTERVIEWING, LIFE HISTORY, AND NARRATIVE ANALYSIS.
Introduction to Part II.
4. The Life History and the Scientific Mosaic (Howard S. Becker).
5. Talking and Listening from Women's Standpoint: Feminist Strategies for Interviewing and Analysis (Marjorie L. DeVault).
6. Active Interviewing (James A. Holstein and Jaber F. Gubrium).
7. Narrative Authenticity (Elinor Ochs and Lisa Capps).
PART III. OBSERVATIONAL FIELDWORK.
Introduction to Part III.
8. The Place of Field Work in Social Science (Everett C. Hughes).
9. On Fieldwork (Erving Goffman).
10. Difference and Dialogue: Members' Readings of Ethnographic Texts (Robert M. Emerson and Melvin Pollner).
11. In Search of Horatio Alger: Culture and Ideology in the Crack Economy (Phillipe Bourgois).
PART IV: CONVERSATION AND DISCOURSE ANALYSIS.
Introduction to Part IV.
12. Activity Types and Language (Stephen C. Levinson).
13. Reflections on Talk and Social Structure (Emanuel A. Schegloff).
14. Refusing Invited Applause: Preliminary Observations from a Case Study of Charismatic Oratory (J. Maxwell Atkinson).
PART V. RESEARCH USING ARTIFACTS AS PRIMARY SOURCES.
Introduction to Part V.
15. The Interpretation of Documents and Material Culture (Ian Hodder).
16. Professional Vision (Charles Goodwin).
17. Artwork: Collection and Contemporary Culture (Chandra Mukerji).
Index.
"Serious students of qualitative methods will have this book in their libraries. It brings together some of the best representations of our qualitative traditions, and links them to current movements in the field. Weinberg's introductory essay alone is worth the price of the book."
Gale Miller, Marquette University
<!--end-->
"Weinberg's theoretical framework is sophisticated and will encourage conversation and deliberation about qualitative methodology. Those interested in issues of methodological epistemology will find much food for thought in this collection." Donileen R. Loseke, University of South Florida

" a must for people studying or using qualitative research methods" Davina Banner.

"This volume provides an overview of the theoretical controversies that characterize a variety of qualitative methods and would make a valuable contribution to graduate students' and scholars' collections."
Contains 17 essays representing the finest classic and contemporary readings on qualitative research methods.

Includes general introduction to both the field and the essays contained in the volume.

Ideal for students being introduced to qualitative methods for the first time, and as a resource for scholars.