Qualitative Research in Health Care, 3rd Edition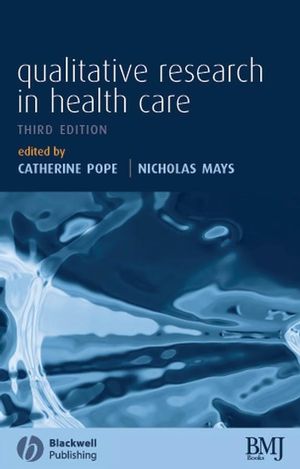 Qualitative Research in Health Care, 3rd Edition
ISBN: 978-1-405-13512-2 August 2006 BMJ Books 168 Pages
Description
This fully revised and updated edition of
Qualitative Research in Health Care
offers a clear and accessible introduction to conducting and interpreting qualitative research, incorporating new examples, references and chapters relevant for a comprehensive introduction to the subject.
New chapters and references include:



Synthesising qualitative research

Secondary analysis of primary data

Ethical issues

Mixed research methods and integrating qualitative with quantitative techniques

Consensus and other methods for eliciting public and professional views and preferences

Conversation analysis
Cannot be combined with any other offers.
Original Price:$147.94
Purchased together:$110.96
save $36.98
Cannot be combined with any other offers.
Original Price:$136.90
Purchased together:$102.68
save $34.22
Table of contents
1 Qualitative methods in health research.
Catherine Pope, Nicholas Mays.
2 Qualitative interviews.
Nicky Britten.
.
3 Focus groups.
Jenny Kitzinger.
.
4 Observational methods.
Catherine Pope, Nicholas Mays.
.
5 Conversation analysis.
Sarah Collins, Nicky Britten.
.
6 Ethical issues.
Dawn Goodwin.
.
7 Analysing qualitative data.
Catherine Pope, Sue Ziebland, Nicholas Mays.
.
8 Quality in qualitative health research.
Nicholas Mays, Catherine Pope.
.
9 Combining qualitative and quantitative methods.
Alicia O'Cathain, Kate Thomas.
.
10 Case studies.
Justin Keen.
.
11 Action research.
Julienne Meyer.
.
12 Consensus development methods.
Nick Black.
13 Synthesising qualitative research.
Catherine Pope, Nicholas Mays
Reviews
Review Published by Doody's Review Service
--December 2006:
"This is the third edition of a book on how to conduct and interpret qualitative research that was initially published in 1996.

The purpose is to show how qualitative research can be used effectively in practice. This is a worthy goal, as the importance of qualitative research is becoming more recognized.

These authors are widely published in the area of qualitative research.

This fully revised and updated edition covers how to conduct interviews and focus groups, observational data collection, and conversational analysis.

Ethical issues are examined and suggestions for data analysis are provided. A chapter on assessing qualitative studies is included and the reader is introduced to combining quantitative and qualitative research methods. The book concludes with case studies, action research, and synthesizing qualitative research. This is a small book that provides the essential information about areas of qualitative research.

This book should be of interest to the target audience. It provides basic information regarding qualitative research and is a quick reference. New content and references have been included in this edition.

Weighted Numerical Score: 96 - 4 Stars!"

Diane M. Tomasic, EdD, RN(West Liberty State College)
What's New
A clear and accessible introduction to practising and interpreting qualitative research in health care


Well established and successful BMJ Research and Writing title

The only basic level introductory text aimed specifically at the novice

Concise, practical and easy-to-use

New material considers the ethics of qualitative research, how to assess its quality and how to use qualitative methods in the emerging area of research synthesis

Demonstrates effective and appropriate qualitative research