Quality Assurance in Analytical Chemistry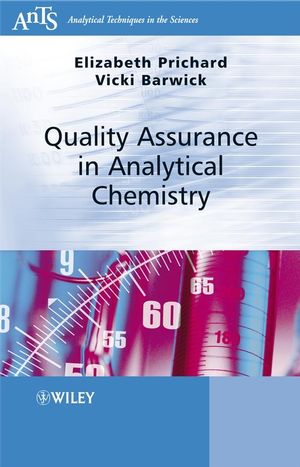 Quality Assurance in Analytical Chemistry
ISBN: 978-0-470-01203-1 October 2007 316 Pages
Description
The issue of quality assurance in the analytical chemistry laboratory has become of great importance in recent years.

Quality Assurance in Analytical Chemistry introduces the reader to the whole concept of quality assurance. It discusses how all aspects of chemical analysis, from sampling and method selection to choice of equipment and the taking and reporting of measurements affect the quality of analytical data. Finally, the implementation and use of quality systems are covered.
Preface.
Acknowledgements.
Abbreviations, Acronyms and Symbols.
1. The Need for Reliable Results.
2. General Principles of Quality Assurance and Quality Control.
3. Sampling.
4. Preparing for Analysis.
5. Making Measurements.
6. Data Treatment.
7. Benchmarking Your Laboratory.
8. Documentation and its Management.
9. Managing Quality.
Appendix: Two-Tailed Critical Values for Student t -Tests.
Responses to Self Assessment Questions.
Bibliography.
Glossary of Terms.
SI Units and Physical Constants
Periodic Table.
Index.
"An excellent open learning text … .Everyone will learn something from this book and I recommend it to anyone involved in analytical chemistry from junior laboratory technician to UKAS assessor." (
The Higher Education Academy Physical Sciences Centre
, June 2008)
"The benefit of this book is the comprehensive and up to date approach to the topic is reliability in analytical measurements." (Accreditation and Quality Assurance: Journal for Quality, Comparability and Reliability in Chemical Measurement, August 2008)
"Offers analysts a new learning route to achieving the quality objectives in their work." (International Journal of Environmental and Analytical Chemistry, 2008)
Covers the whole analytical process from commissioning the analysis to delivering the results
Introductory text with little prior knowledge of QA and QC assumed/required
Self-paced learning text
QA and QC for a laboratory with routine and/or research activities
Coverage of management and technical requirements
Simple language with rigorous use of terminology.