Quality Assurance in Higher Education: An International Perspective: New Directions for Institutional Research, Number 99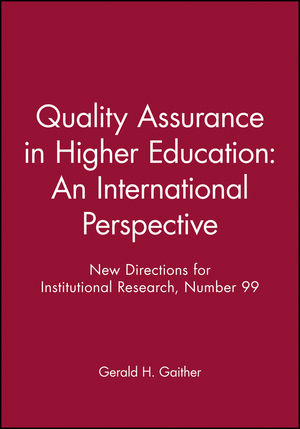 Quality Assurance in Higher Education: An International Perspective: New Directions for Institutional Research, Number 99
ISBN: 978-0-787-94740-8 December 1998 Jossey-Bass 190 Pages
Description
Quality has become a major international issue for the academy as higher education finds itself under increasing scrutiny from governments, the media, and consumers concerned about receiving greater value for their investments. This volume presents some of the best quality assurance policies, practices, and procedures found in five progressive countries. It offers an international set of resources-including Web sites and other electronic resources-to assist practitioners in achieving the goals of their own quality assurance frameworks. The contributors emphasize that the key to successful quality assurance programs lies in the professional commitment of the faculty to these efforts, and shows how this is being accomplished in the countries under review. This is the 99th issue of the quarterly journal New Directions for Institutional Research.
1. Quality Assurance in Higher Education: The Evolution of Systems and Design Ideals (E. Grady Bogue).
2. Quality Assurance in the Netherlands (Peter A. M. Maassen).
3. Introducing Quality Assurance in the Spanish University (Jose-Gines Mora & Javier Vidal).
4. Quality Assurance in American and British Higher Education: A Comparison (Elizabeth C. Stanley & William J. Patrick).
5. Quality Assurance in Scottish Higher Education (Chris Carter & Alan Davidson).
6. Quality Assurance in the Entrepreneurial University (John E. Neal).
7. The Future Dynamics of Quality Assurance: Promises and Pitfalls (Gerald H. Gaither).
8. Quality Assurance in Higher Education: A Selected Resource Guide (Anthony J. Adam & Malcolm Morrison).