Quality Control for Dummies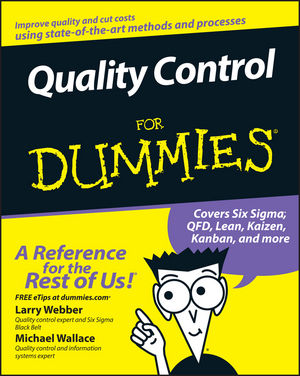 Quality Control for Dummies
ISBN: 978-0-470-06909-7
Mar 2012
384 pages
Description
So you've been asked to lead a quality control initiative? Or maybe you've been assigned to a quality team. Perhaps you're a CEO whose main concern is to make your company faster, more efficient, and less expensive. Whatever your role is, quality control is a critical concept in every industry and profession.

Quality Control For Dummies is the straightforward, easy guide to improving your company's quality. It covers all of today's available options and provides expert techniques for introducing quality methods to your company, collecting data, designing quality processes, and more. This hands-on guide gives you all the tools you'll ever need to enhance your company's quality, including:
Understanding the importance of quality standards
Putting fundamental quality control methods to use
Listening to your customer about quality issues
Whipping quality control into shape with Lean
Working with value stream mapping
Focusing on the 5S method
Supplement a process with Kanban
Fixing tough problems with Six Sigma
Using QFD to win customers over
Improving you company with TOC
This invaluable reference is written from an unbiased viewpoint, giving you all the facts about each theory with no fuzzy coverings. It also includes steps for incorporating quality into a new product and Web sites packed with quality control tips and techniques. With Quality Control For Dummies, you'll be able to speed up production, eliminate waste, and save money!
Introduction.
Part I: Understanding the Basics of Quality Control.
Chapter 1: Defining and Explaining Quality Control.
Chapter 2: Understanding the Importance of Quality Standards.
Chapter 3: Using Quality Assurance for the Best Results.
Chapter 4: The Role of Inspection in Quality Control.
Part II: Putting Fundamental Quality Control Methods to Use.
Chapter 5: Starting Down the Road to Quality.
Chapter 6: Detecting the Voice of the Customer in Quality Issues.
Chapter 7: Preparing to Measure Your Current Quality Process.
Chapter 8: Collecting Your Quality Data.
Chapter 9: Evaluating Quality with Statistics.
Chapter 10: Assessing Quality with Statistical Process Control.
Part III: Whipping Quality Control into Shape with Lean Processes.
Chapter 11: Gathering the Nuts and Bolts of Lean Processes.
Chapter 12: Keeping Your Eyes on the Process: Value Stream Mapping.
Chapter 13: Focusing on the 5S Method.
Chapter 14: Empowering Workers to Make Changes with Rapid Improvement.
Chapter 15: Looking at Lean Materials and Kanban.
Part IV: Surveying Other Quality Control Techniques.
Chapter 16: Combining the Best of All Worlds in Total Quality Management.
Chapter 17: Fixing Tough Problems with Six Sigma.
Chapter 18: Delving into Quality Function Deployment.
Chapter 19: Considering the Theory of Constraints.
Part V: The Part of Tens.
Chapter 20: Ten Steps for Incorporating Quality into a New Product and/or Process.
Chapter 21: Ten (Or So) Web Sites with Quality Control Tips and Techniques.
Index.