Quality of Life: Assessment, Analysis, and Interpretation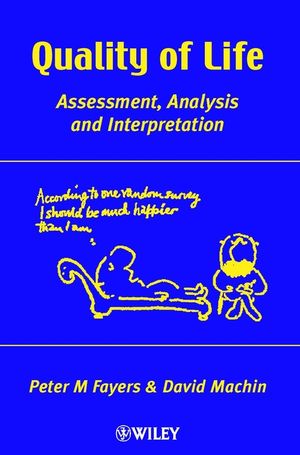 Quality of Life: Assessment, Analysis, and Interpretation
ISBN: 978-0-470-84628-5
Mar 2002
416 pages
Description
'Winner of first prize in the Basis of Medicine Category of the BMA Medical Book Competition 2001'
The One Essential Comprehensive Volume on Quality of Life Research. Quality of life studies are now an essential part of the evaluation of any treatment. Written by two authors who are well respected within this field, this book is the first volume to lay down guidelines on assessing, analysing and interpreting quality of life data.
Quality of Life: Assessment, Analysis and Interpretation


Covers development of questionnaires through to analysis of studies
Includes practical examples
Fills a need in a rapidly growing area of interest
Has a clear structure and consistent approach to the material covered
This book is aimed at everyone involved in quality of life and is applicable to medical and non-medical, statistical and non-statistical readers. It is of particular relevance for clinical and biomedical researchers within both the pharmaceutical industry and practitioners in the fields of cancer and other chronic diseases. 
Principles of Measurement Scales.

DEVELOPING AND TESTING QUESTIONNAIRES.

Scores and Measurements: Validity, Reliability, Sensitivity.

Multi-item Scales.

Factor Analysis.

Item Response Theory and Differential Item Functioning.

Questionnaire Development and Scoring.

ANALYSIS OF QoL DATA.

Cross-sectional Analysis.

Exploring Longitudinal Data.

Modelling Longitudinal Data.

Missing Data.

Quality-adjusted Survival.

PRACTICAL ASPECTS AND CLINICAL INTERPRETATION.

Clinical Trials.

Sample Sizes.

Practical and Reporting Issues.

Clinical Interpretation.

Appendices.

References.

Index.
"Measurement of quality of life has grown to become a standard endpoint in many randomised controlled trials..." (
Short Book Reviews
, Vol. 20, No. 3, December 2000)
"...well written and easy to understand..." (The Lancet Oncology, November 2000)
"I would recommend this book..." (Progress in Palliative Care, Vol 8/5, 2000)
"this book is highly recommended to clinicians who are actively involved in the planning, analysis and publication of QoL research..." (Clinical Oncology, Vol. 12/6, 2000)
"A useful book for many professions who wish to know whether their patients are well and whether certain therapies are needed and useful..." (Journal of Paediatric Endocrinology Metabolism, Vol. 13/9, 2000
"I would recommend this book for library purchase" (The Statistician, Vol. 5, 2001)
"...this book is highly recommended..." (Quality of Life Research, No.11, 2002