Quantitative Applications of Mass Spectrometry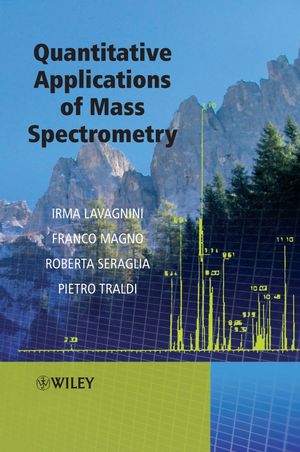 Quantitative Applications of Mass Spectrometry
ISBN: 978-0-470-02516-1 May 2006 152 Pages
Description
This text presents the information needed to design a successful quantitative analysis using mass spectrometric techniques currently available and widely employed. It is devoted to the researchers of different areas, who use mass spectrometry as a detector suitable for the measurements of their interest.
An essential book for the practicing mass spectroscopist
A genuine 'how-to' text for the practitioner focusing on quantification rather than instrumental design and techniques
Up-to-date structured text describing methods, experimental strategy, capabilities and limitations, with data analysis and interpretation
Brings together material widely dispersed in the pertinent literature into one unique source
Internationally recognized group of authors
Buy Both and Save 25%!
Original Price:$219.00
Purchased together:$164.25
save $54.75
Cannot be combined with any other offers.
Preface.
Acknowledgements.
Introduction.
1 What Instrumental Approaches are Available.
1.1 Ion Sources.
1.1.1 Electron Ionization.
1.1.2 Chemical Ionization.
1.1.3 Atmospheric Pressure Chemical Ionization.
1.1.4 Electrospray Ionization.
1.1.5 Atmospheric Pressure Photoionization.
1.1.6 Matrix-assisted Laser Desorption/Ionization.
1.2 Mass Analysers.
1.2.1 Mass Resolution.
1.2.2 Sector Analysers.
1.2.3 Quadrupole Analysers.
1.2.4 Time-of-flight.
1.3 GC/MS.
1.3.1 Total Ion Current (TIC) Chromatogram.
1.3.2 Reconstructed Ion Chromatogram (RIC).
1.3.3 Multiple Ion Detection (MID).
1.4 LC/MS.
1.5 MS/MS.
1.5.1 MS/MS by Double Focusing Instruments.
1.5.2 MS/MS by Triple Quadrupoles.
1.5.3 MS/MS by Ion Traps.
1.5.4 MS/MS by Q-TOF.
References.
2 How to Design a Quantitative Analysis.
2.1 General Strategy.
2.1.1 Project.
2.1.2 Sampling.
2.1.3 Sample Treatment.
2.1.4 Instrumental Analysis.
2.1.5 Method Validation.
References.
3 How to Improve Specificity.
3.1 Choice of a Suitable Chromatographic Procedure.
3.1.1 GC/MS Measurements in Low and High Resolution Conditions.
3.1.2 LC/ESI/MS and LC/APCI/MS Measurements.
3.2 Choice of a Suitable Ionization Method.
3.3 An Example of High Specificity and Selectivity Methods: The Dioxin Analysis.
3.3.1 Use of High Resolution MID Analysis.
3.3.2 NICI in the Analysis of Dioxins, Furans and PCBs.
3.3.3 MS/MS in the Detection of Dioxins, Furans and PCBs.
3.4 An Example of MALDI/MS in Quantitative Analysis of Polypeptides: Substance P.
References.
4 Some Thoughts on Calibration and Data Analysis.
4.1 Calibration Designs.
4.2 Homoscedastic and Heteroscedastic Data.
4.2.1 Variance Model.
4.3 Calibration Models.
4.3.1 Unweighted Regression.
4.3.2 Weighted Regression.
4.3.3 A Practical Example.
4.4 Different Approaches to Estimate Detection and Quantification Limits.
References.
Index.
"…anyone needing to do serious quantitative work using GC/MS could learn from these authors." (CHOICE, January 2007)
This is an essential book for the practicing mass spectroscopist, which will appeal to both biochemists, pharmaceutical scientists, forensic, clinical and life scientists and analytical chemists

A genuine 'how-to' text for the practitioner focusing on quantification rather than instrumental design and techniques

An up-to-date structured text describing methods, experimental strategy, capabilities and limitations, with data analysis and interpretation

Brings together material widely dispersed in the pertinent literature into one unique source

Internationally recognized group of authors