Quantitative Reasoning: Tools for Today's Informed Citizen, 2nd Edition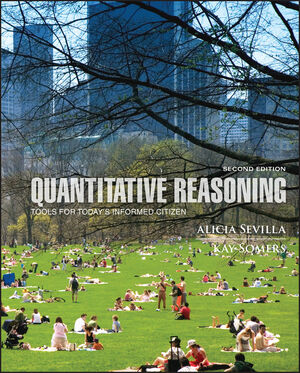 Quantitative Reasoning: Tools for Today's Informed Citizen, 2nd Edition
ISBN: 978-1-118-37101-5
Nov 2012
640 pages
Description
This Second Edition of Quantitative Reasoning empowers students to use quantitative information to make responsible financial, environmental, and health-related decisions in their daily lives. Students develop their critical thinking skills through numerous examples, explorations, and activities featuring real data. Students use a variety of analysis throughout the text: inductive and deductive reasoning; tabular, symbolic, verbal, and graphical forms of functions and relations; graphs and pictorial representations of data; interpretations of probabilistic data; surveys and statistical studies.
Sevilla and Somer's Quantitative Reasoning, 2nd Edition comes available with WileyPLUS, a research-based, online environment for effective teaching and learning, which takes the guesswork out of studying by providing them with a clear roadmap: what to do, how to do it, and whether they did it right.

WileyPLUS sold separately from text.
Chapter 1: Organizing Information Pictorially Using Charts and Graphs
Chapter 2: Bivariate Data
Chapter 3: Graphs of Functions
Chapter 4: Multiple Variable Functions
Chapter 5: Proportional, Linear, and Piecewise Linear Functions
Chapter 6: Modeling with Linear and Exponential Functions
Chapter 7: Logarithms and Scientific Notation
Chapter 8: Indexes and Ratings
Chapter 9: Personal Finance
Chapter 10: Introduction to Problem Solving
Chapter 11: Decision Making
Chapter 12: Inductive Reasoning
Chapter 13: Deductive Reasoning
Chapter 14: Apportionment
Chapter 15: More on Problem Solving
Chapter 16: Average and Five-Number Summary
Chapter 17: Standard Deviation, z-Score, and Normal Distributions
Chapter 18: Basics of Probability
Chapter 19: Conditional Probability and Tables
Chapter 20: Sampling and Surveys
Chapter 21: More on Decision Making
Updated data sets and real-world applications throughout.
More Explorations added to each Topic.
More engaging text design and available in hardcover for the first time.
WileyPLUS research-based, online teaching and learning management system introduced with this text for the first time.
Activity-based approach that combines class instruction with in-class student activities, encourages students to think critically about how math is used in the real world.
Flexible Approach to Technology: Students use technology and Internet resources effectively and build skills in working with data. Text provides carefully written instructions on using Excel and the graphing calculator.
Emphasis on real-world problems that students identify, analyze, and solve using quantitative information. Students reason quantitatively and make numerical arguments.
Real data featured in problem solving helps students make the connection between the mathematics they learn and the issues they encounter in their daily lives.
Chapters are efficiently organized into topics, objectives, examples, summaries, explorations, and activities.