Quantity Food Sanitation, 5th Edition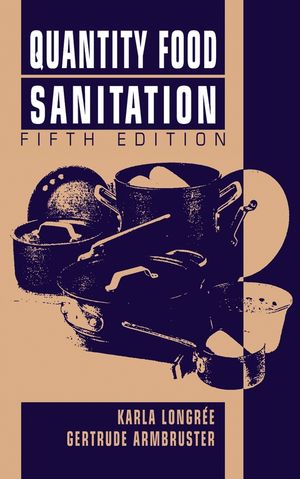 Quantity Food Sanitation, 5th Edition
ISBN: 978-0-471-59660-8
Feb 1996
480 pages
Description
A celebrated classic updated and revised for the 1990s and beyond . . .

Consumer safety is the most important concern of any successful bulk foodservice operation. And no book has done more to safeguard consumers from foodborne illnesses than Quantity Food Sanitation. First published in 1972, it has schooled generations of dietitians, nutritionists, and professional foodservice operators in techniques for the safe preparation, transport, storage, and serving of food.

This fully revised and updated edition includes coverage of the latest scientific and technological advances in the field. It focuses on the microbiological factors of food prepared in quantity and features comprehensive, step-by-step coverage of the entire sequence in the process of serving food to the public—from purchasing safe food, through the numerous steps involved in preparation and storage, to final service.

The most complete, up-to-date guide to quantity foodservice safety, Quantity Food Sanitation, Fifth Edition:
Features a new chapter on microwave cooking and its effects on microbial content in foodservice applications
Includes thorough scientific documentation regarding the latest findings on problems and solutions for microbial contamination of food
Reviews recent developments in storage technology, including the sous vide (vacuum bag) and other innovations in products with an extended shelf life
Incorporates the latest food safety guidelines and procedures
Includes the HACCP system for avoiding contamination in food service operations
Partial table of contents:

Food Spoilage.

Some Basic Facts on Microorganisms Important in Food Sanitation.

Foodborne Illnesses.

Reservoirs of Microorganisms Causing Foodborne Gastroenteric Outbreaks: People, Animals, Environment.

Reservoirs of Microorganisms Causing Foodborne Gastroenteric Outbreaks: Food Supply.

Control: Procurement of Sound Food Supply and Appropriate Storage of Purchased Items.

Contamination of Ingredients and Menu Items in the Foodservice Establishment.

Multiplication and Survival of Bacterial Contaminants in Ingredients and Menu Items.

Microwave Heating.

Microbiological Considerations in Connection with Some Specific Categories of Foodservice Systems.

Educating Foodservice Personnel in Food Sanitation.

Appendices.

Index.